Finding a good template for your startup pitch deck is hard.
99% of what you find online sucks. Even the paid ones. Either the slides are ugly, or the deck is poorly structured, or both.
So I scouted the Internets to find the absolute best templates I could get my hands on. I can confidently say - the following are the best pitch deck templates you can find online. If you think I missed one, kindly let me know and I'll review it.
Money can be tight at the start, so I made sure to pick both free and paid templates.
Let's get to it!
Table of Contents
Methodology - What makes a good pitch deck template?
I am no designer, but I have reviewed well over 7,000 pitch decks over the past few years. In a very subjective way, this is what I looked at:
Design
"Look & feel"
Colors: Usually a bright background with 1 major color. Sometimes a palette.
Fonts: Something modern
Additional items included (icons, pictures, device mockups, etc.)
Layout
Is this a generic "presentation" layout or a typical "startup" deck template
Are there slides for all the typical categories: Team, Product, Market, etc.
How many slides are there in total? How many for each category?
Having said that, let's dive in!
1. "Ultimate Template" by OpenVC - $99
I'm obviously biased, but we've built this template to be the perfect tool for founders.
In terms of content, there are 50+ slide layouts spread across 12 sections: Cover, Problem, Solution, Product, Traction, Business Model, Market, GTM, Competition, Team, Funding, Back cover. Each slide is pre-filled with dummy data for your convenience, and linked to key instructions to guide you step by step.
In terms of design, you get a clean, modern design that you can fully edit with PowerPoint or Google Slides. Each section also contains 4 examples of real slides from startup decks of the highest quality. That way, you can get inspiration directly in the template.
This template is only available to OpenVC Premium users, so the price includes access to full package: Fundraising Masterclass, 250k in softfare perks, and much more.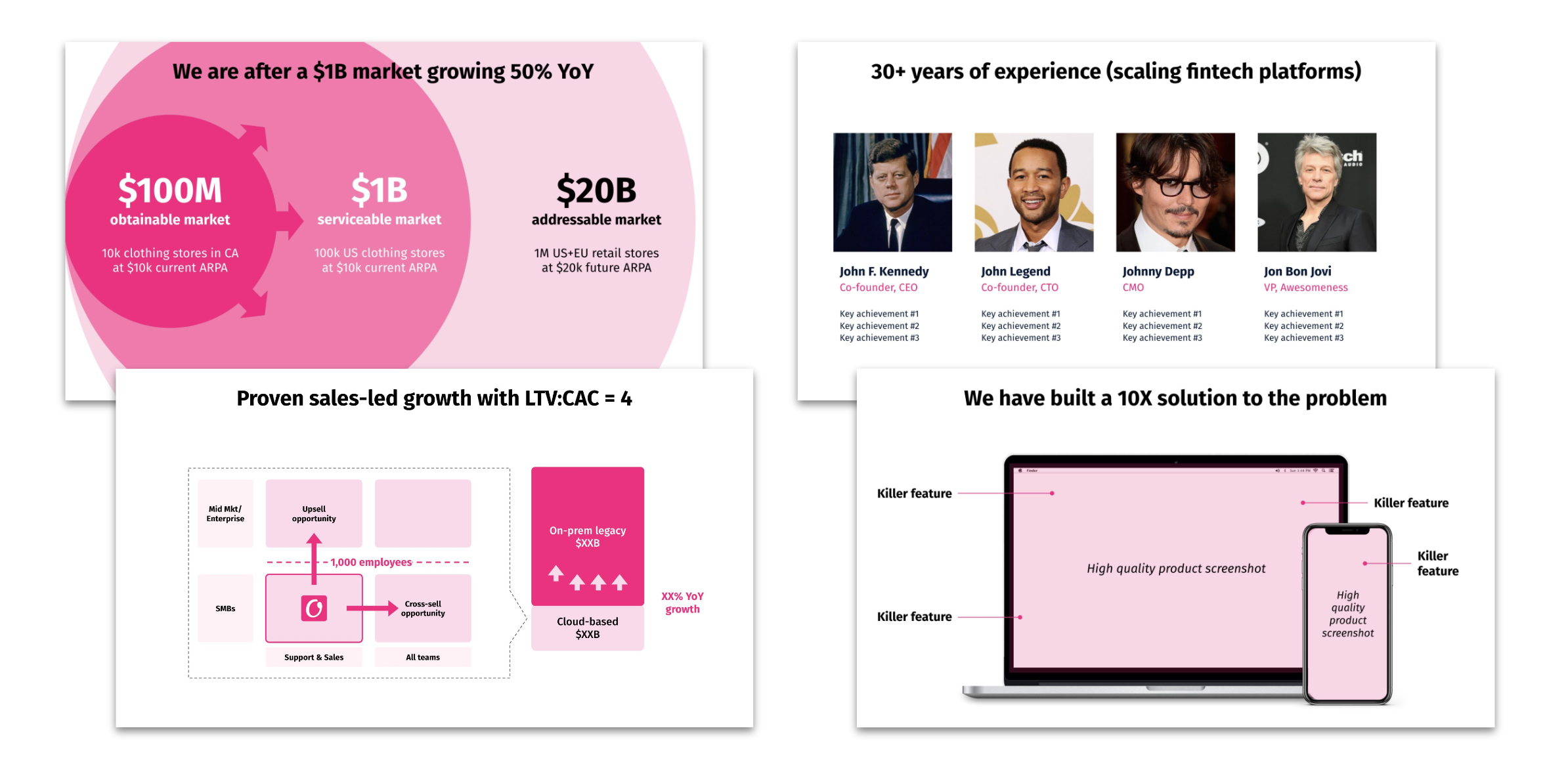 2. "Pitch Deck" by BaseTemplates - $49
This one is a beauty! No two ways around it, I just love it.
This "Pitch Deck" by BaseTemplates has clearly been designed by people who have spent time studying startup pitch decks. The 100+ slides (!) follow a robust structure (Market, Traction, Team, etc). Every need you may have is covered, including 300+ icons, 5 country maps, and even device mockups to insert screenshots of your app or website in an elegant way.
The design is definitely modern with crispy colors, clean white background, and round fonts. 4 shades of color are available: blue, green, orange, red. As a former consultant, I appreciate the fact that they included both action titles and main titles. In case you need to pitch in front of a large audience, each slide has a "presentation version" with less text and bigger fonts. Brilliant!
The icing on the cake: this template works with Powerpoint, Google Slide, and Keynote. At $49 and with a 14-day "no questions asked" return policy, you have no reason not to try it.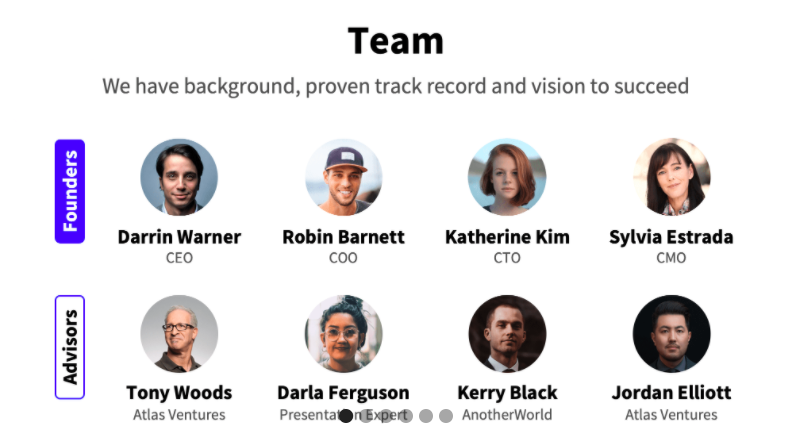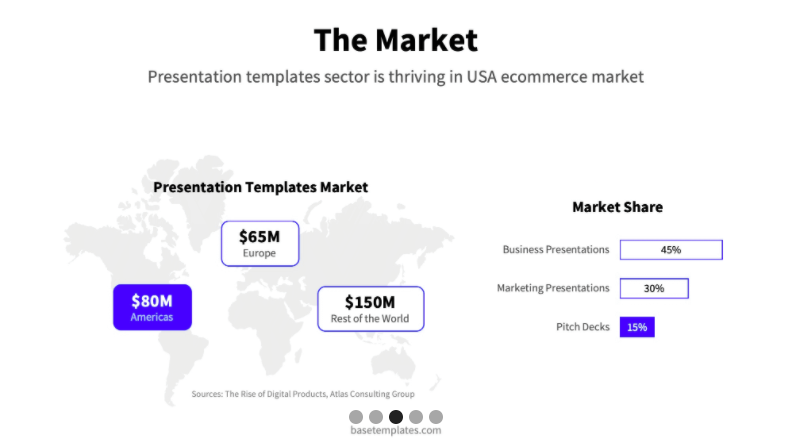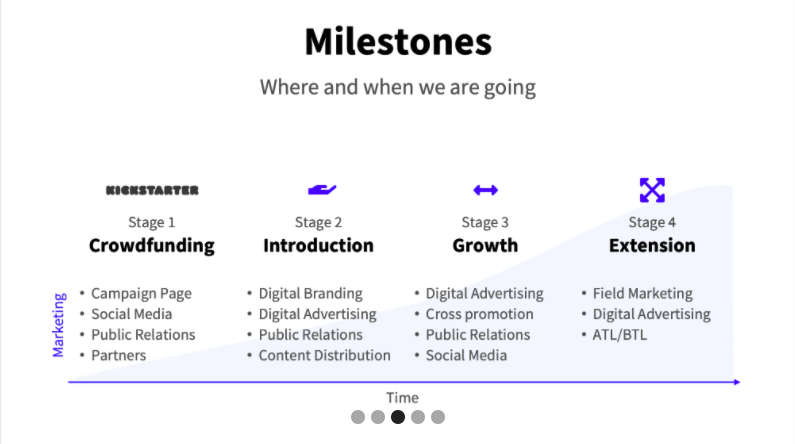 3. Slidebean - from $8/mo.
Slidebean is modern presentation software that offers a new approach to making slides.
I won't do a full review, but here is how Slidebean differs from good ol' Powerpoint:
Outline and design are uncoupled! When you create a new slide, you add the content first (i.e. text, images, etc.), then you design the slide in a separate window. Counterintuitive at first, but much more efficient in the long-run.



When it comes to designing slides, it's a "block builder" à la Squarespace. You cannot screw it up. And if you mess up somehow, click the "Arrange with AI" button to fix it.
Color palettes are connected to each element of your presentation by default. This is great for color consistency and a timesaver if you ever need to update your colors.
Slidebean is a pleasure to use - much more so than Powerpoint. It's easy, fun, and time-efficient. So should you use it?
Well, it depends. As always when "less is more", you won't have full control over your slides. No advanced features, combo shortcuts, or power user techniques. Are you willing to trade off freedom for convenience? If you are an iPhone user, then you already have the answer.
I have explored the "startup" templates included with both Starter and Premium versions. On the one hand, the designs are colorful and pixel perfect. On the other hand, I was not impressed by the layout library. They are basic and lack some "must-have" slides. You can easily create the layouts you want, so it's not a deal-breaker. But I had higher expectations considering how high the bar is on all other aspects.
Apart from that, you'll be pleased to know that Slidebean comes loaded with high-quality icons, images, and GIFs so you don't need to waste your time browsing Unsplash and Nounproject.
You can try SlideBean for free. A paid subscription is required to export your presentations to ppt: $8 a month for the Starter version which includes 15 templates, or $19 a month for the Premium version with 120+ templates.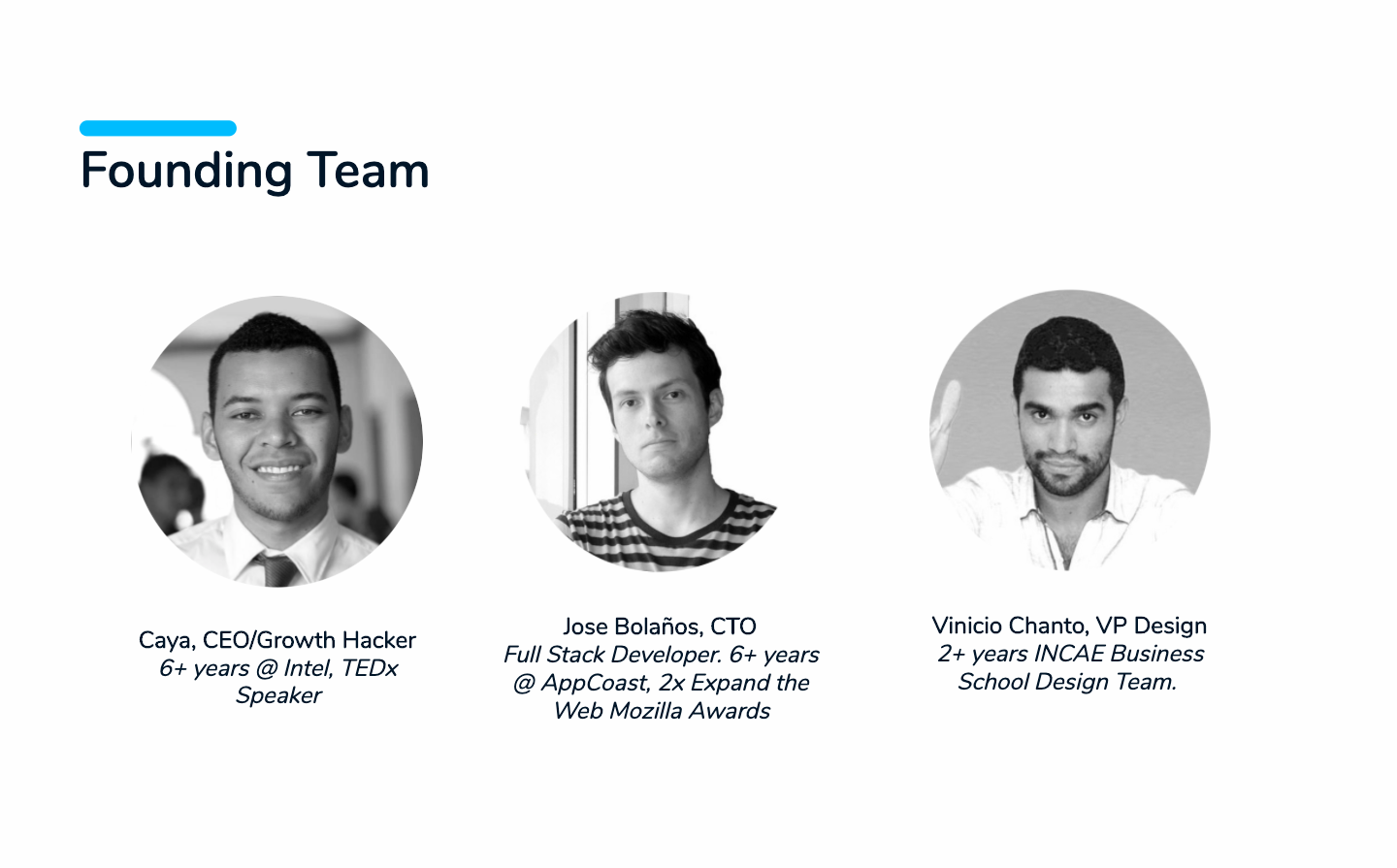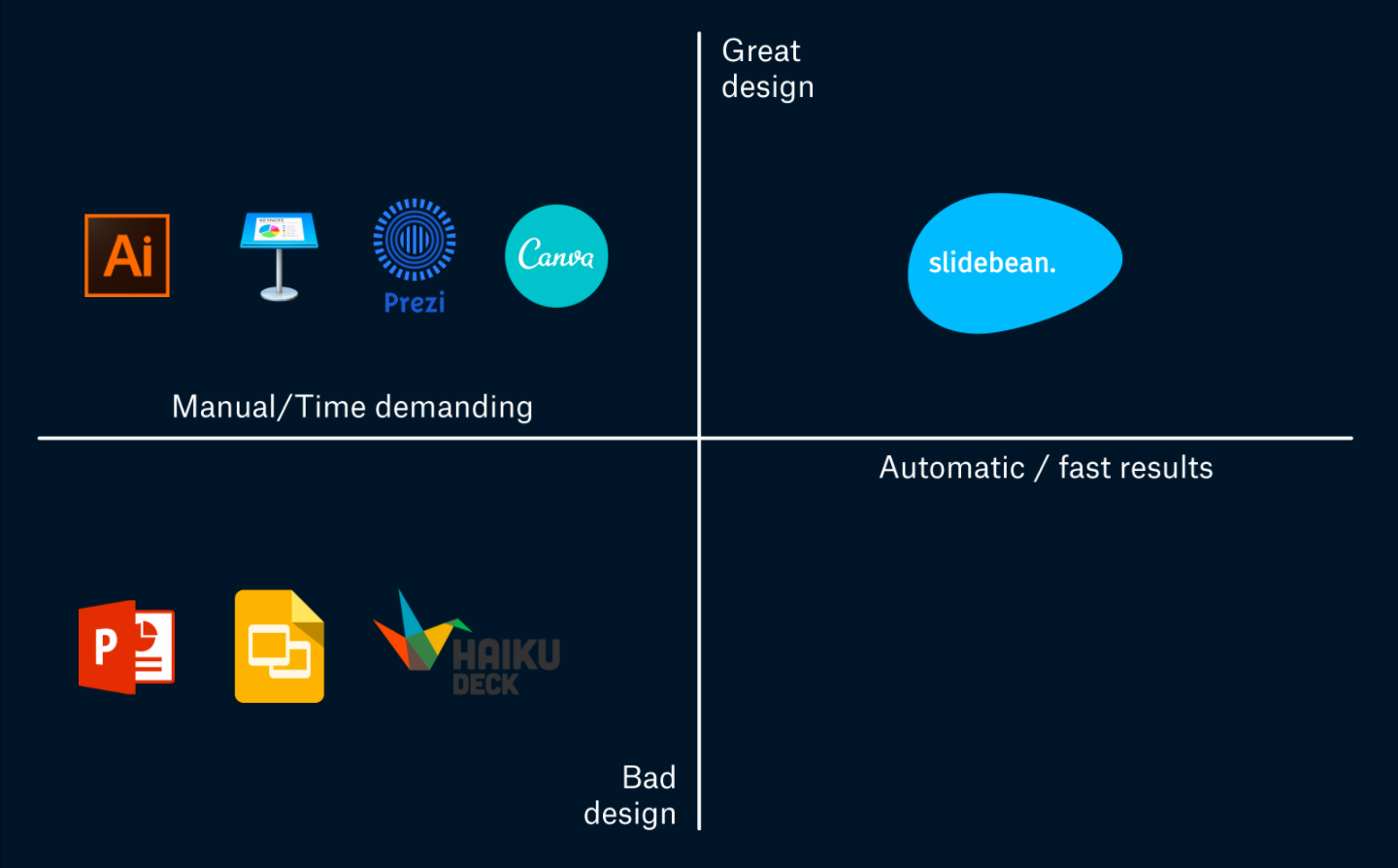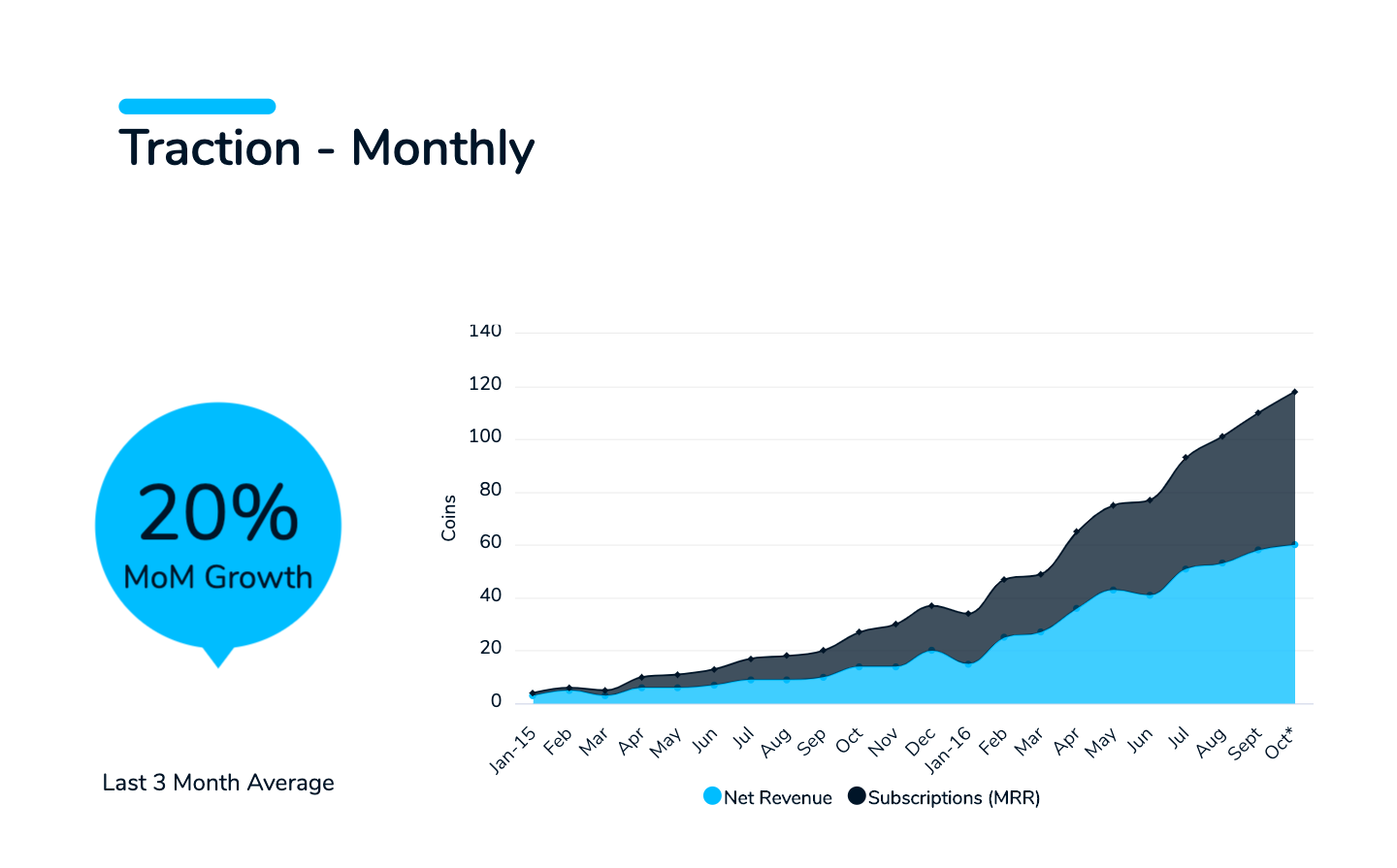 4. "Ultimate Pitch Deck" by Startup Action - Free
"Ultimate Pitch Deck" by Startup Action
Startup Action is a consulting boutique that helps tech founders launch and raise funds. As part of their online content, they provide a pitch deck template, free of charge, for all to use.
This template shares a lot of good aspects with the Nextview deck - a bold design with colors that pop out, in-depth instructions to guide you at every step, and a short number of slides to focus on what really matters. Not a big fan of the green color they used, but you can easily use your own colors instead so that's not an issue.
All the key points are covered: problem, solution, validation, market size, business model, team, and the ask. IMHO, this template is the most actionable of all, because the person who built it is a former investor - not a graphic designer. She framed the template for impact first, and it shows.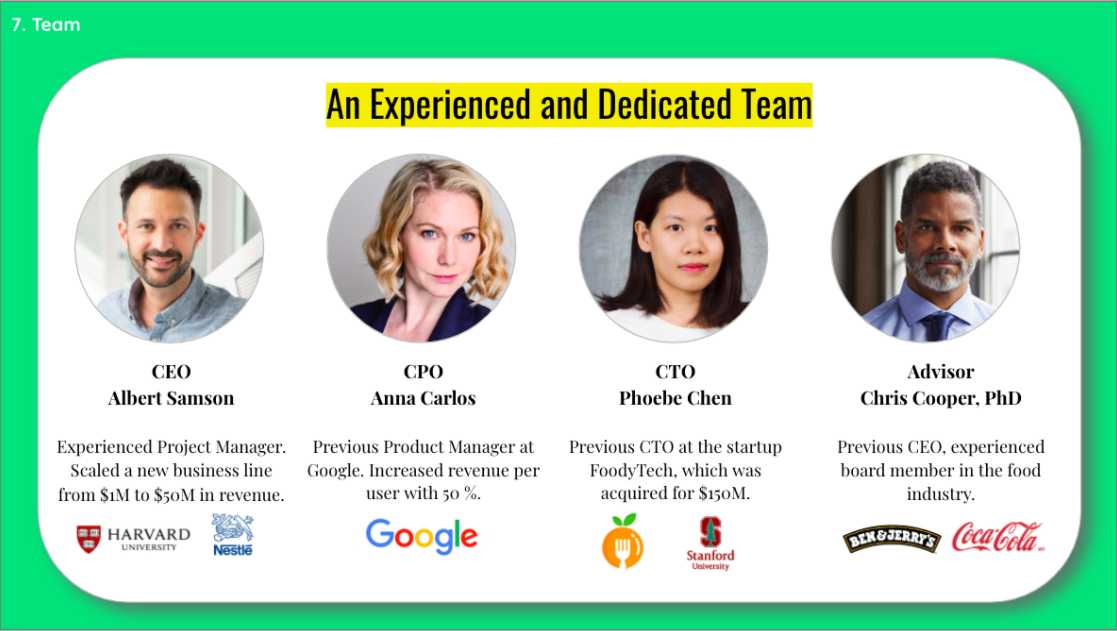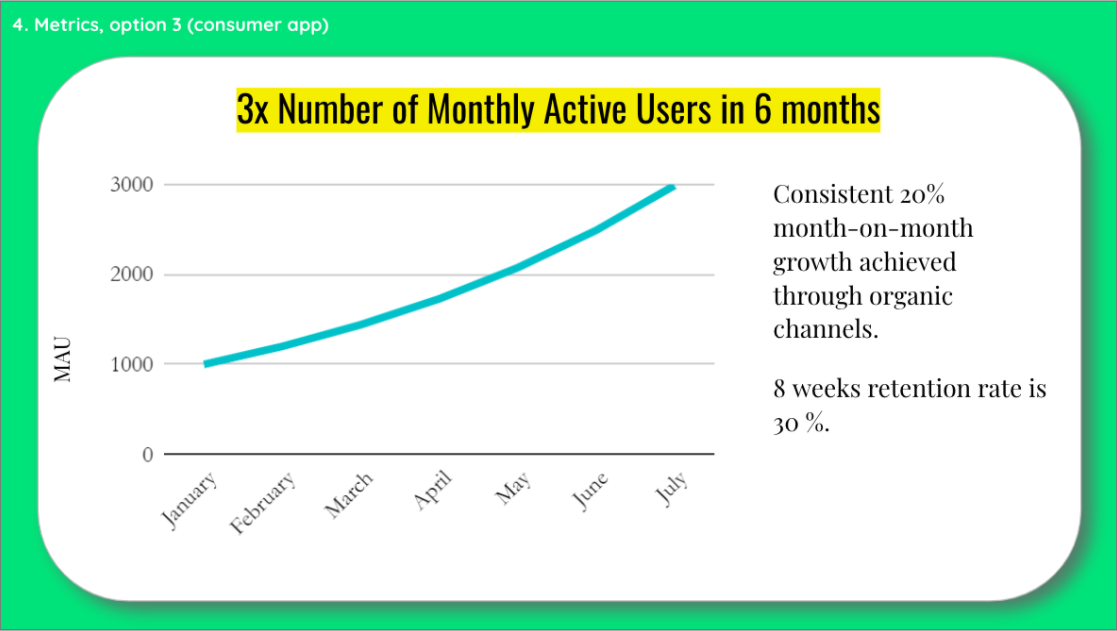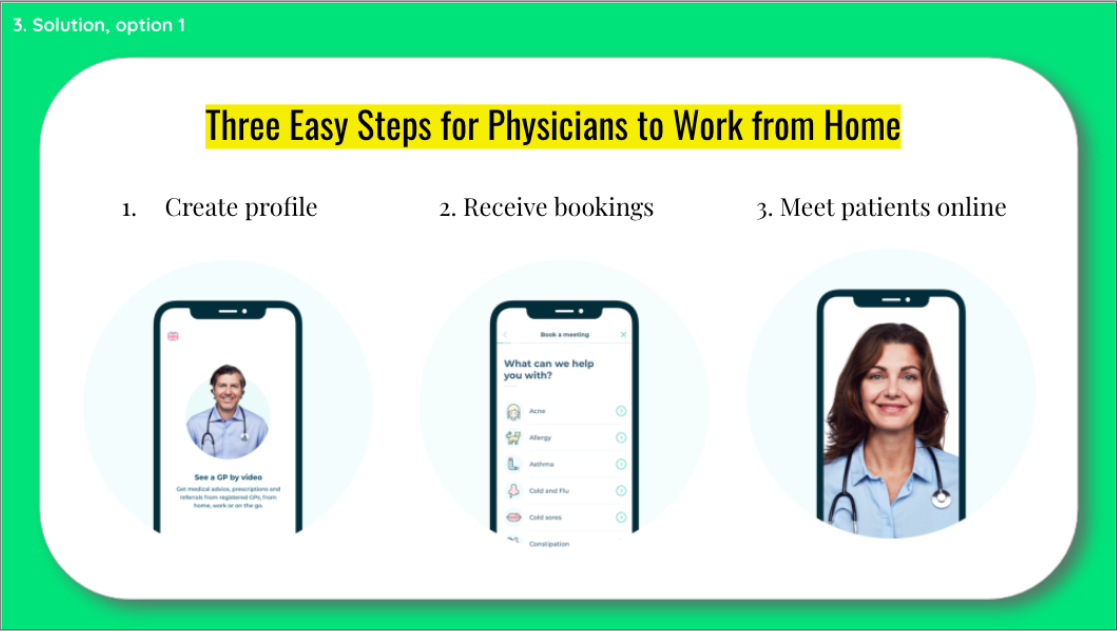 5. "Peetch" by Slidor - Free
Slidor is a design agency that creates custom Powerpoint presentations. They had the brilliant idea to release a free template for startups that cannot afford their services but still need a robust pitch deck. Kudos to that.
This is probably the best free template out there. 42 slides of awesomeness with all the classics: market, competitors, roadmap, value prop, customer profile, etc. There is even a "Product" slide for Apple watch apps. Coming from a design agency, it obviously looks great, with the light gray background and modern font that gives out the "startupy" touch.
Download it, you'll thank me later.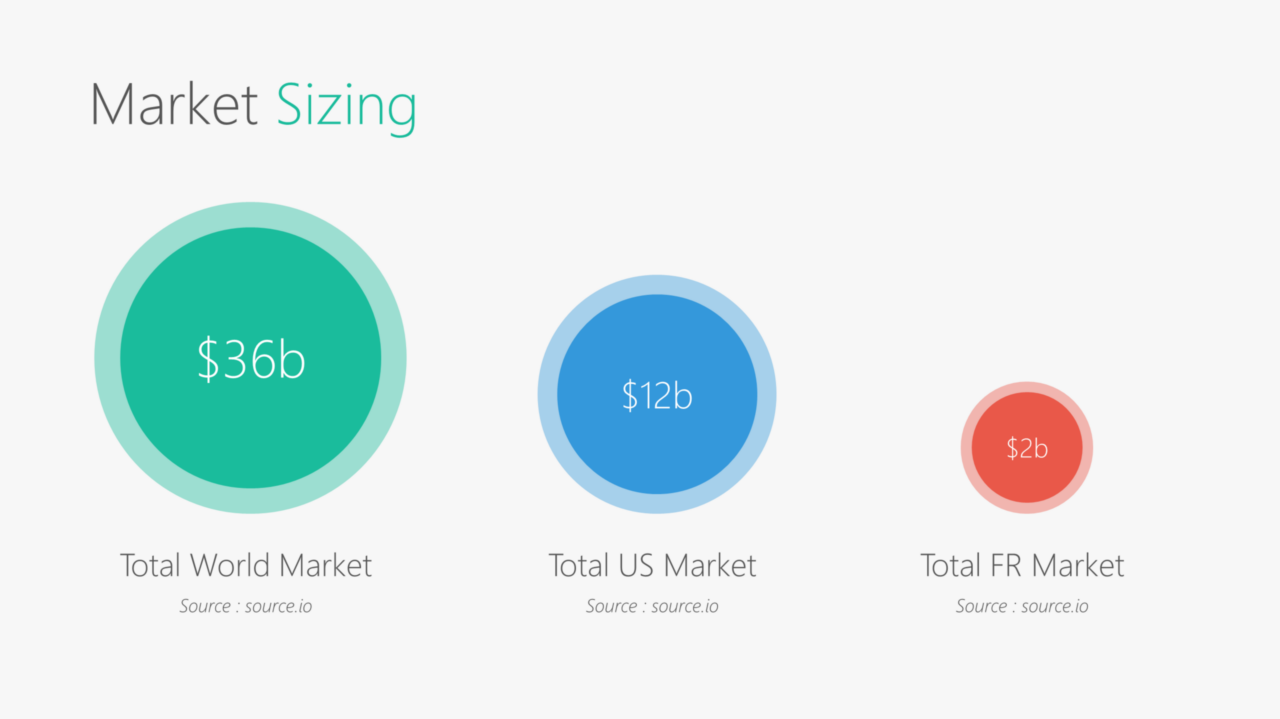 6. "Seed Deck" by Nextview - Free
Nextview is a VC fund that invests in the "Everyday Economy", i.e. the "digital redesign of broad categories of everyday living, thanks to cutting edge technologies and innovative business models."
I copy-pasted that last sentence from their website, so I am not sure what it means. What I am sure of, however, is that in September 2019, Nextview released a fantastic pitch deck template for seed-stage startups.
This template really stands out from the rest. First, the design is bold, with a cartoon-ish feel and bright shades of yellow and blue. But what is even better is the content: each slide is really crafted to add value to your storytelling, and includes advice about how to fill it. Some of those slides are truly original. For instance, the slide on Market size breaks with the usual "3 circles" that you see all the time since Airbnb, and I think it's for the better.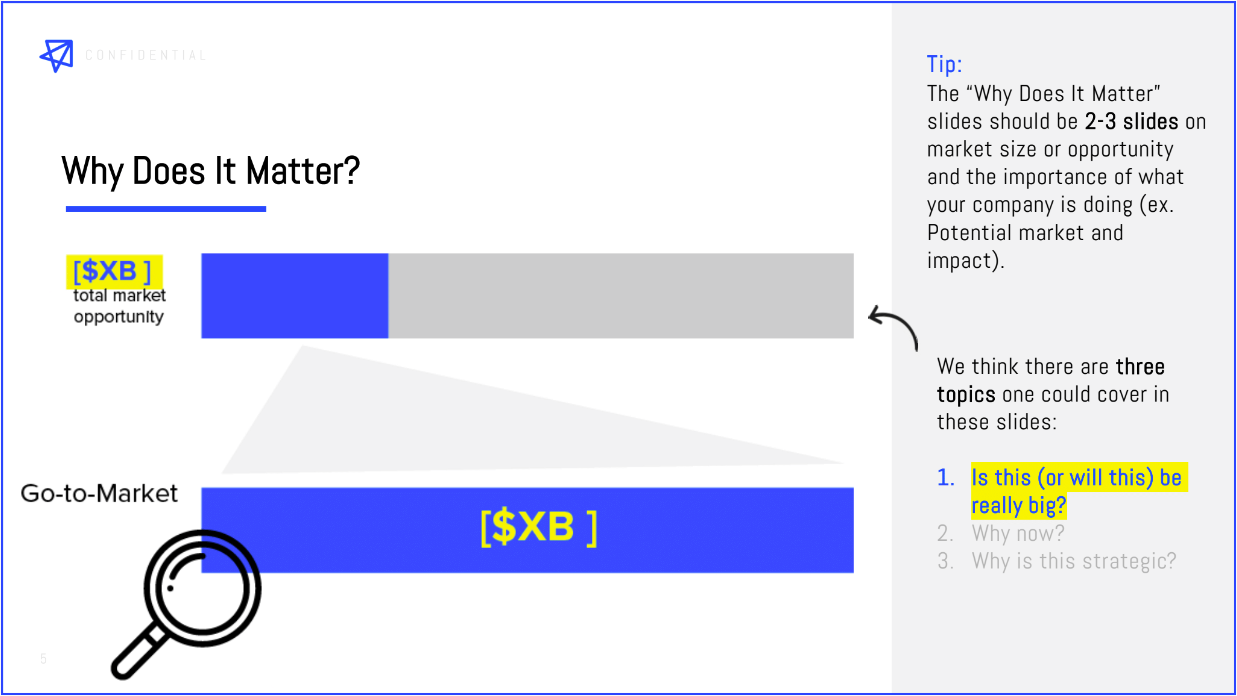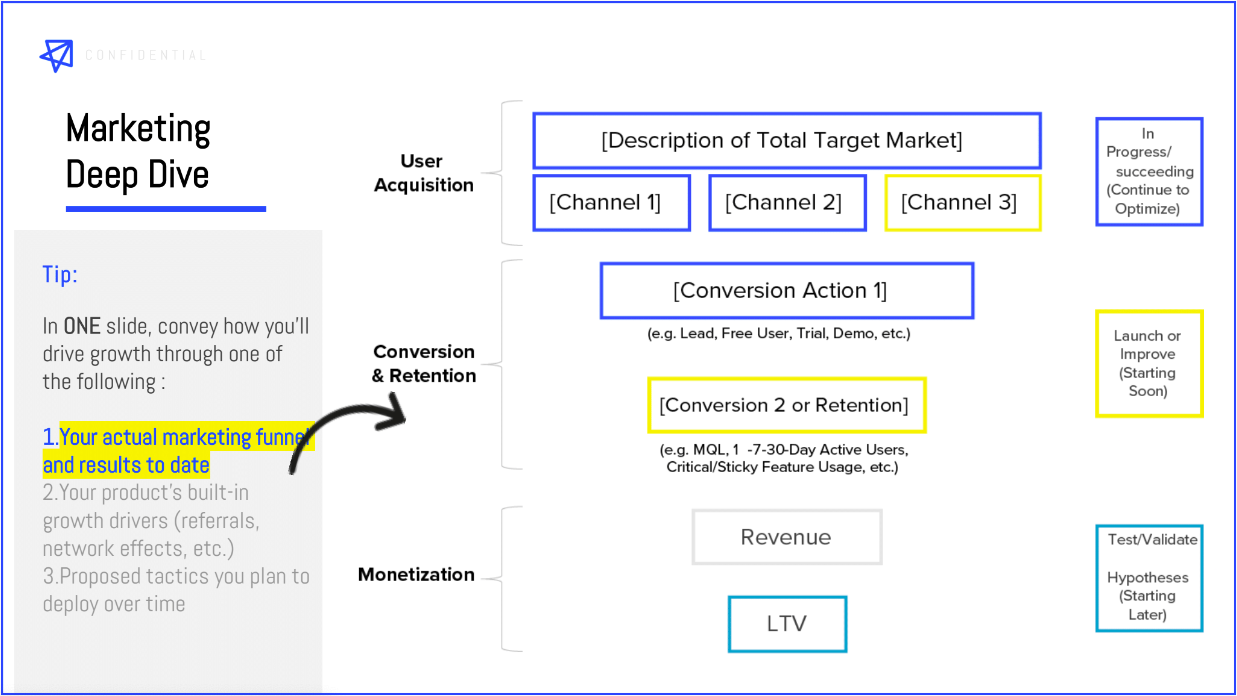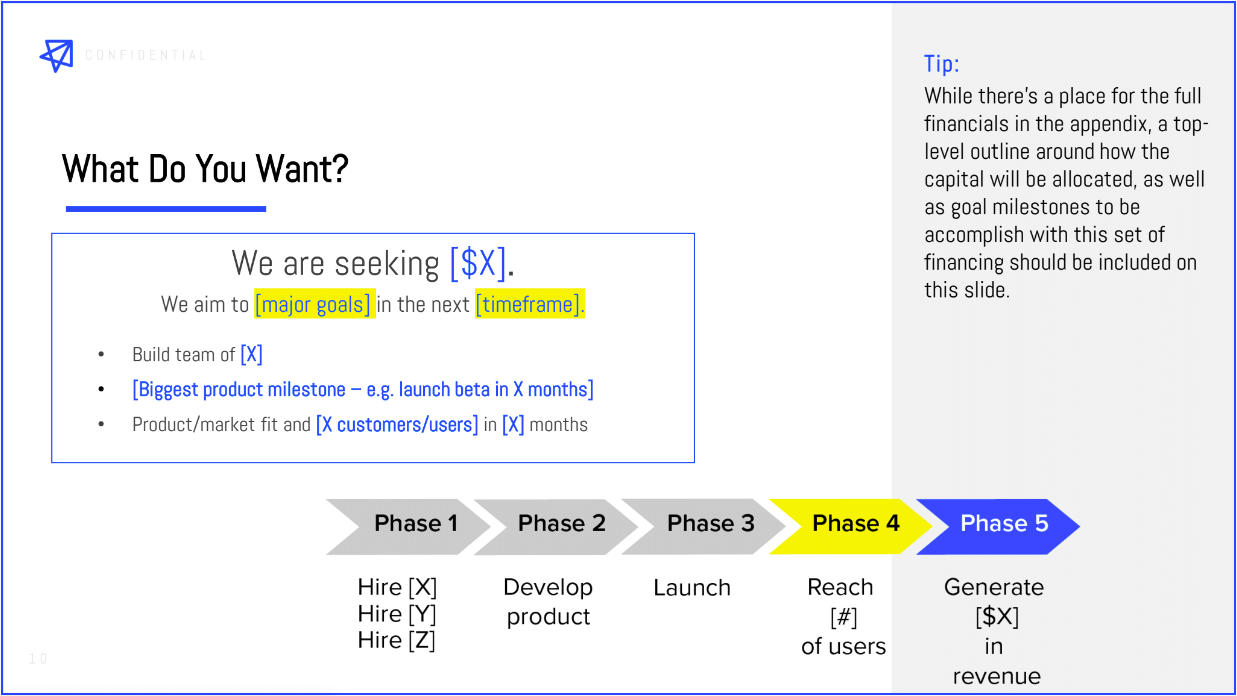 7. "ProjectX" by Graphicbulb - Free
GraphicBulb is a website that offers free templates on Google Slides, Powerpoint and Keynote, and also paid ones (called Premium templates) via Envato Market.
Starting with the downsides, this ProjectX template only has 16 slides. Half of them have little value for tech startups, but the ones about Team, Tablet mockup, Laptop mockup, and Data Layout are really neat.
What I like most about the ProjectX template is its "clean" aspect: white background, black text, and a touch of green to catch the eye. Add to that a modern font, and you have a strong basis to build your amazing startup pitch deck.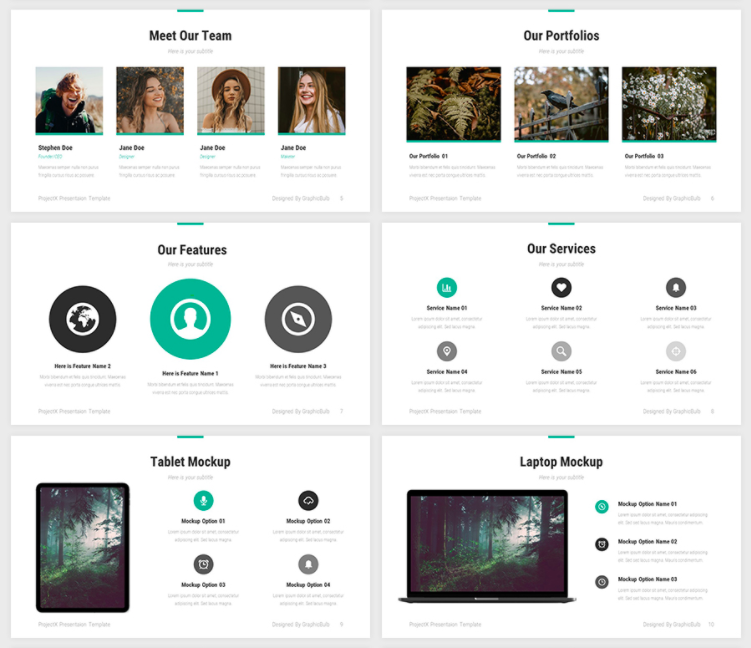 8. "TransportApp" by SlidesGo - Free
Like GraphicBulb, SlidesGo gathers hundreds of free templates in one place. As such, quality varies a lot from one template to another. This TransportApp deck specifically caught my eyes because of its black background. It can be the right choice if you are looking for a dark theme or a premium/luxury feel.
When it comes to the slides themselves, it's a bit deceptive. You do have 32 slides to pick from, but many of them are either repetitive or completely useless. The Pricing, Market Size, and Target slides are not too bad, but that's pretty much it. If you go with this template, set aside some time to create more slides on your own.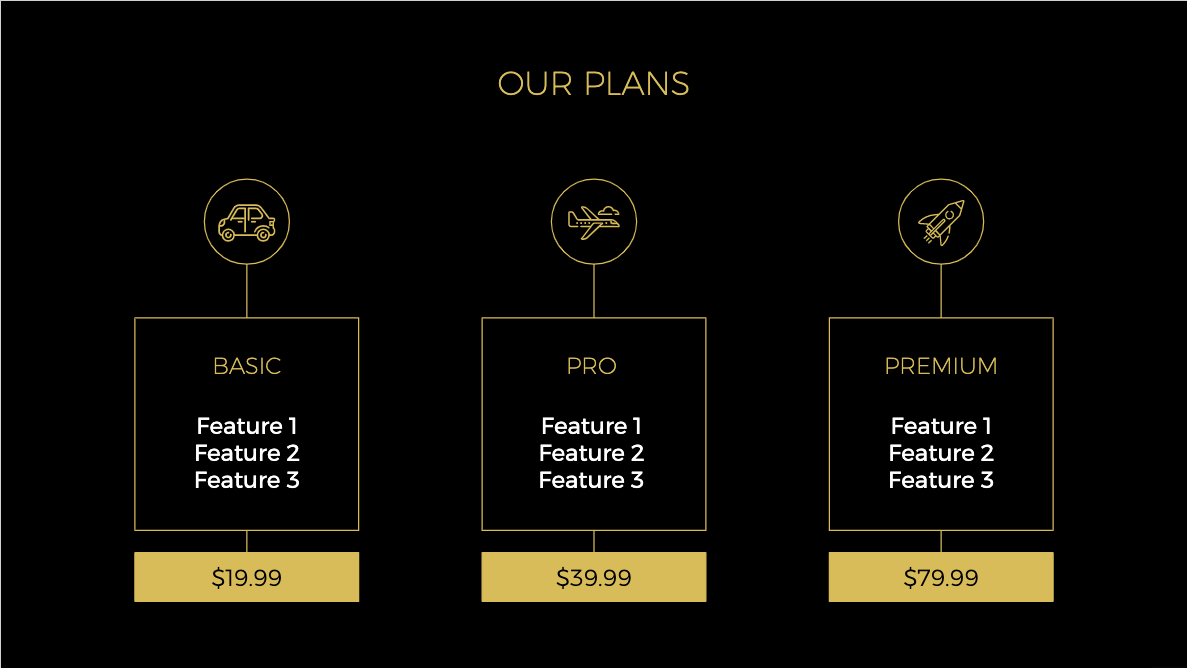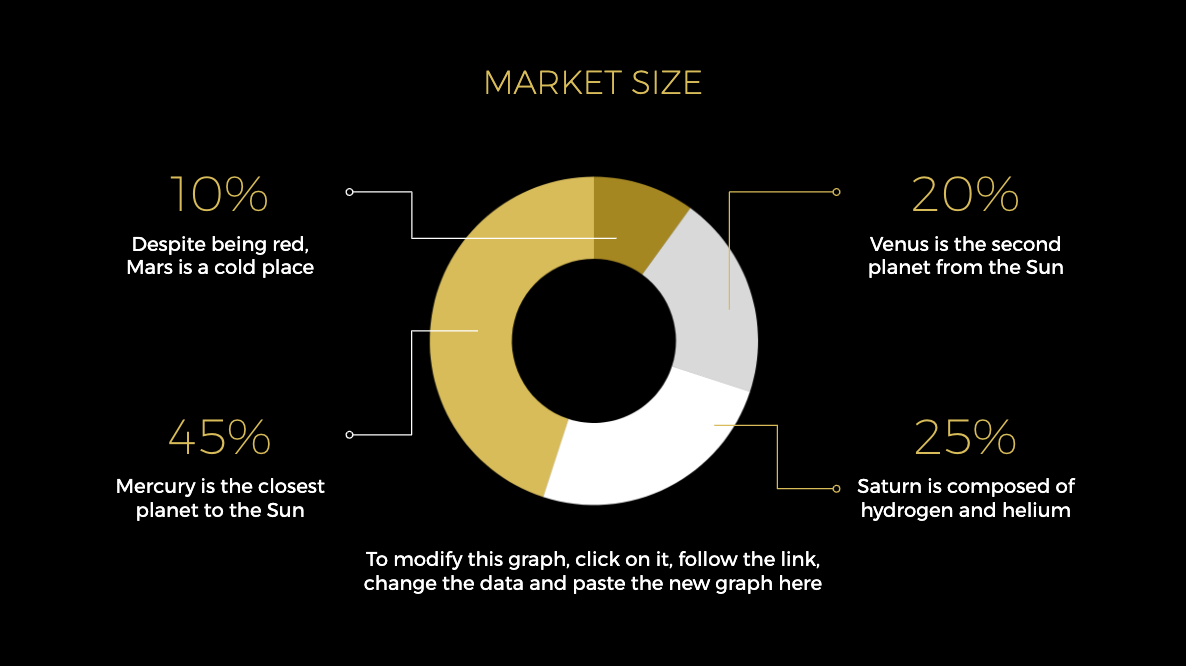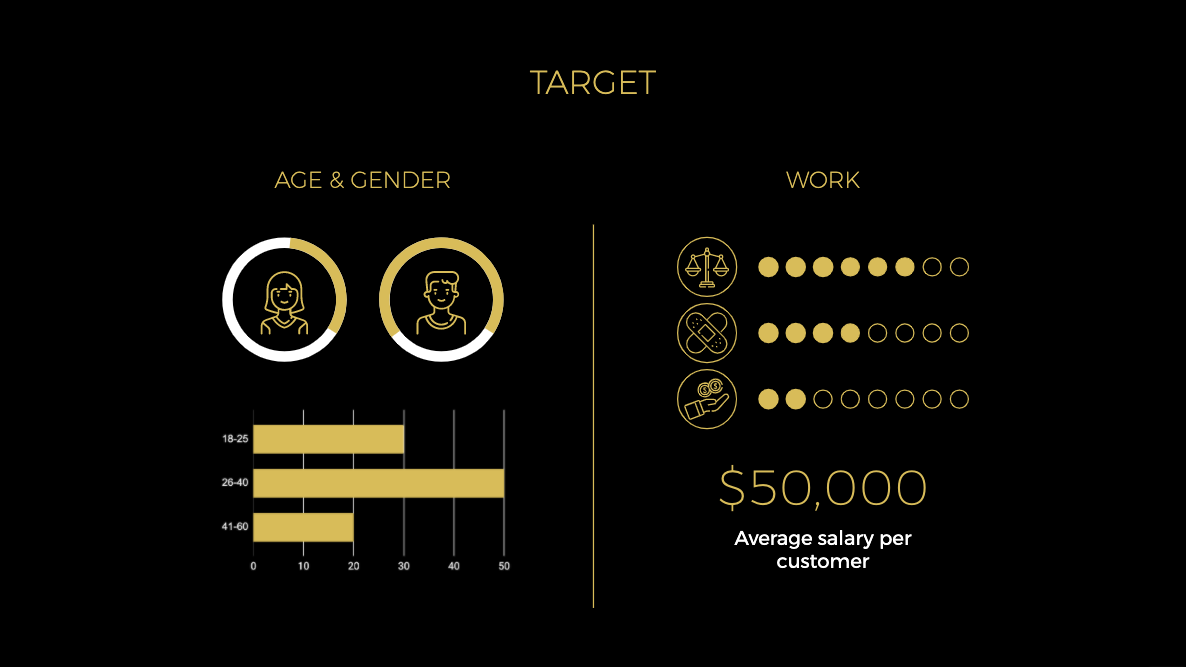 Conclusion - This is the best pitch deck template for startups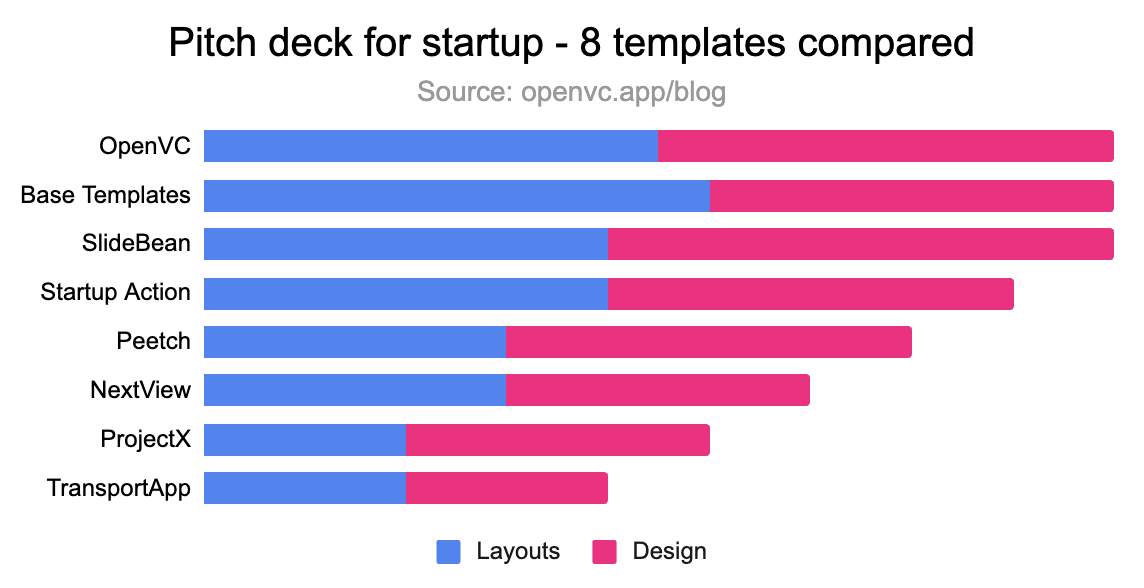 If you have no money to invest in a deck, just use Peetch by Slidor . It's a decent basis to start from. You can easily get inspiration from the other decks presented here and recreate your favorite slides.
If you are willing to shell out a few bucks, the choice is between OpenVC, Slidebean and BaseTemplates.. They are all robust options, so you'll be fine.
A good template doesn't make a good pitch deck. Make sure to check out our playbook on building a good pitch deck to maximise the impact of your template.
One last thing. If you don't feel like playing designer, we have a selection of the absolute best pitch deck designers - available here for free.