Accelerators aren't the right model for founder support
For many startups, accelerators are more of a distraction than an effective route to market. Founders often find themselves wasting too much of their time on the 'bells and whistles' that come with joining an accelerator program, such as marketing seminars and CEO round-tables. Nice to have? Certainly, although perhaps a bit too hit and miss for many.

Maybe the startup will gain access to a handful of people who can move their business in the right direction, or maybe not. If anything, the sharpest founders tend to learn just enough in an accelerator to know it's not the best place for them to build their business. But it's too late - the accelerator is now a shareholder.
What founders really need is to be having deep and specific discussions with experts who can recognize gaps in their business model, identify the areas where they need critical support, and connect them with hands-on resources. Many would be much better served by being put in front of the right people who can help them do the hard work and are going to be paid for getting results. This is where VCs can – and should – be able to add greater value.

So where is it going wrong?
VC firms are not designed for portfolio support
The challenge is that VCs are often cash-rich, but resource-poor. With the competition in the VC market growing, many VCs have too much on their plate. It takes time, headcount, and tech, to organise their networks, source, analyze and win deals, all while adding as much value to their portfolio companies as they can.

Most VCs have loosely assembled communities co-existing on Slack and WhatsApp groups. But for ambitious startups, that's not enough. Money may help bring new startups on board, but throwing money at the problem is not the solution.

VC is – and always will be – a people-first business. It takes people to create great products and thriving cultures. You need more than deep pockets to keep portfolio startups feeling engaged, productive and successful. You need deep insight, a deep pool of talent at your disposal, and a community that's aligned and moving in the same direction.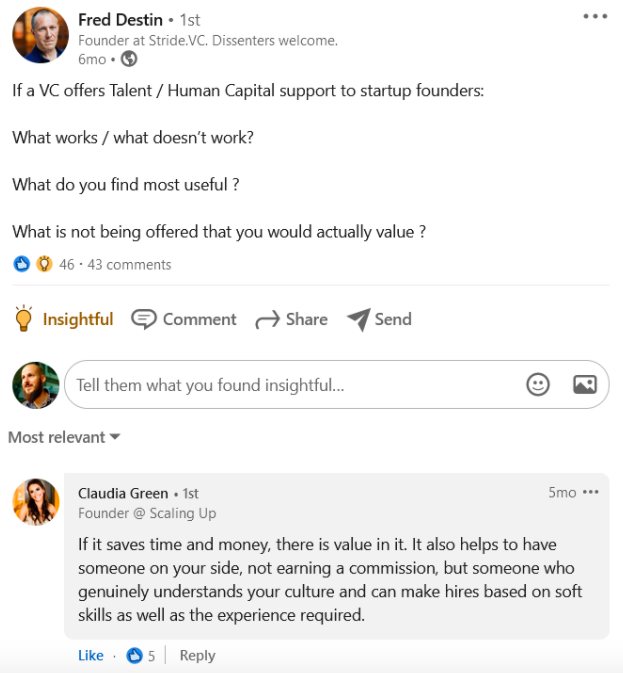 Competing at A16Z standards
Consider Andreessen Horowitz (A16Z). It's not a VC firm in the traditional sense, but a platform boasting some 300 employees on LinkedIn.
In the words of David Teten from Versatile VC:
"A16Z gives portfolio companies structured support through an exceptionally large team, divided into market development, technical talent, executive talent, marketing, corporate development, policy, board partners and professors"
That's the kind of pitch that would see any ambitious founder head A16Z's way. But the A16Z platform approach won't work for most VC firms.
VCs are at a crossroads, and many are recognizing the need for greater, clearer, value add. The question to ask is how to become more like a startup accelerator, or even better, but without dismantling the structure of the organisation. Can VCs apply the key elements of the accelerator model, resourcing and business building expertise?
Introducing a hybrid "cash & sweat" model
In January 2019, I co-founded Consilience Ventures. We want to be the world's largest sweat equity investor, not in competition with VCs, but working alongside them, and be 100% aligned with them and their LPs.
Here's how it works:
We select high-potential startups in deeptech, medtech, fintech where deep expertise is highly valuable.
We typically invest £100k to £300k. Valuation does not matter but we prefer sub-£2m rounds.

We transform a portion of their equity into a digital currency "CVDS" that can be paid out to supporting portfolio professionals in return for their services.
Now, here's the kicker. The value of the digital currency is directly indexed on the Consilience Ventures portfolio value. In other words:

Experts get paid with a currency that follows the startups performance. Consequently, their financial reward is aligned with the startup success - way beyond their usual rates.
Startups hold a currency that follows their performance. Consequently, their purchasing power increases as they, and other Consilience Ventures startups, grow.
Our platform-led community approach helps to turn VCs into end-to-end accelerators. We're now a partner of Microsoft and IBM, and we have co-invested with several VC firms, including Village Global, SOSV, Symvan Capital, Delta Partners, The Wealth Club, Allocations, Welsh Development Bank.


VC firms know that partnering with us means they don't have to buy tech, they don't have to reorganize their company structure, and they don't have to build a talent network from scratch. They become a member of Consilience Ventures, use the platform, and have unfettered access to our global expert network to augment their operations.

And when we co-invest, the startups can use this shared community to accelerate their growth far more imaginatively and productively than if they were entering another incubator or accelerator.
Conclusion
How can VCs win in an increasingly competitive market? By beating accelerators at their own game, and proving start-ups don't need an accelerator to get where they want to go. Helping them find the talent capable of giving them valuable insight into the projects they need to undertake to get to the next crucial stage in their development. It starts with giving them an end-to-end solution featuring a connected, engaged and incentivized community of talent, available via an easily integrated technology platform. And doing it in an efficient and cost-effective way.
Any VC firm can acquire this kind of plug-and-play platform. Most can become a platform tomorrow, if they want to. Consilience Ventures can be the platform that VCs build their own communities on top of, providing portfolio companies with active, engaged and aligned experts, all the way through the business value chain.
About the author
Kevin Monserrat is a co-founder at Consilience Ventures, the startup market network where all members own a stake. Kevin can be reached at [email protected].