When Lucas and I decided to launch on ProductHunt, we had never done a PH launch before.

Fast forward to March 2021, and OpenVC is #1 Product of the Month on ProductHunt.
In December 2021, we even got nominated for Product of the Year.
Here's how we did it.
Table of Contents
Plan you launch strategically
1. Make sure you actually need a ProductHunt launch
Launching on PH takes a lot of work, so make sure that it's valuable for you.

PH is pointless if your target is not in the audience. If your product is aimed at Fortune 500 executives, Chinese consumers, or brick-and-mortar, forget it.

Even the legendary @levelsio only ended up #3 Product of the Day with his QR Menu for restaurants. Not a bad performance, of course, but certainly below his other launches that typically rank in the Top 5 of the Month!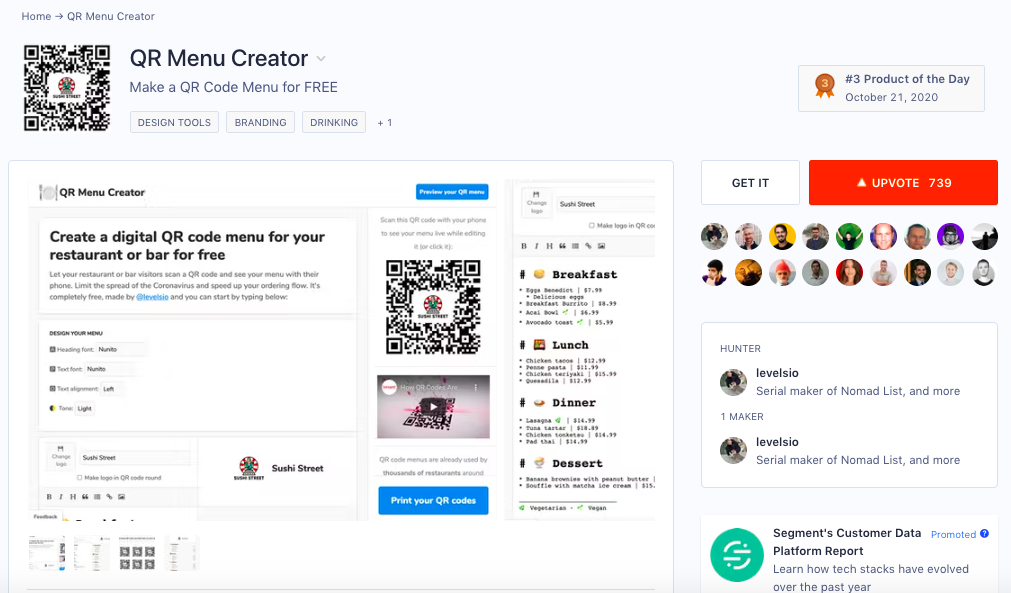 2. Not all products are equal on PH
Products that are free, that target designers or indie makers will always have more success on PH. Period.
Make your peace with it as your amazing fintech app is toppled by a free icon directory.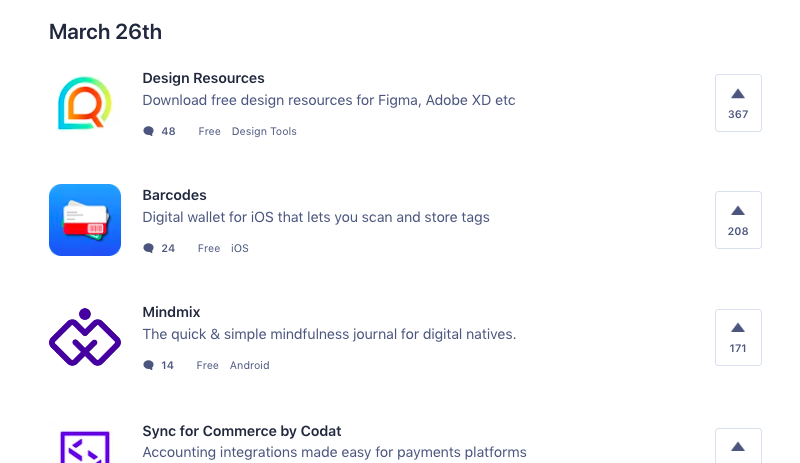 3. Plan your launch early on and do your homework
It took us 7 months from the decision to launch to the actual launch.

It gave us enough time to get a press release, decide whether to book a hunter, prepare our marketing materials, and launch a warm up product.
We also used that time to "do our homework". There are tons of playbooks and guides on how to launch on ProductHunt that you should read to get the full picture. Start with How to launch on Product Hunt, by ProductHunt themselves, then Google your way through 3-5 recent posts to get a good idea of what's going on.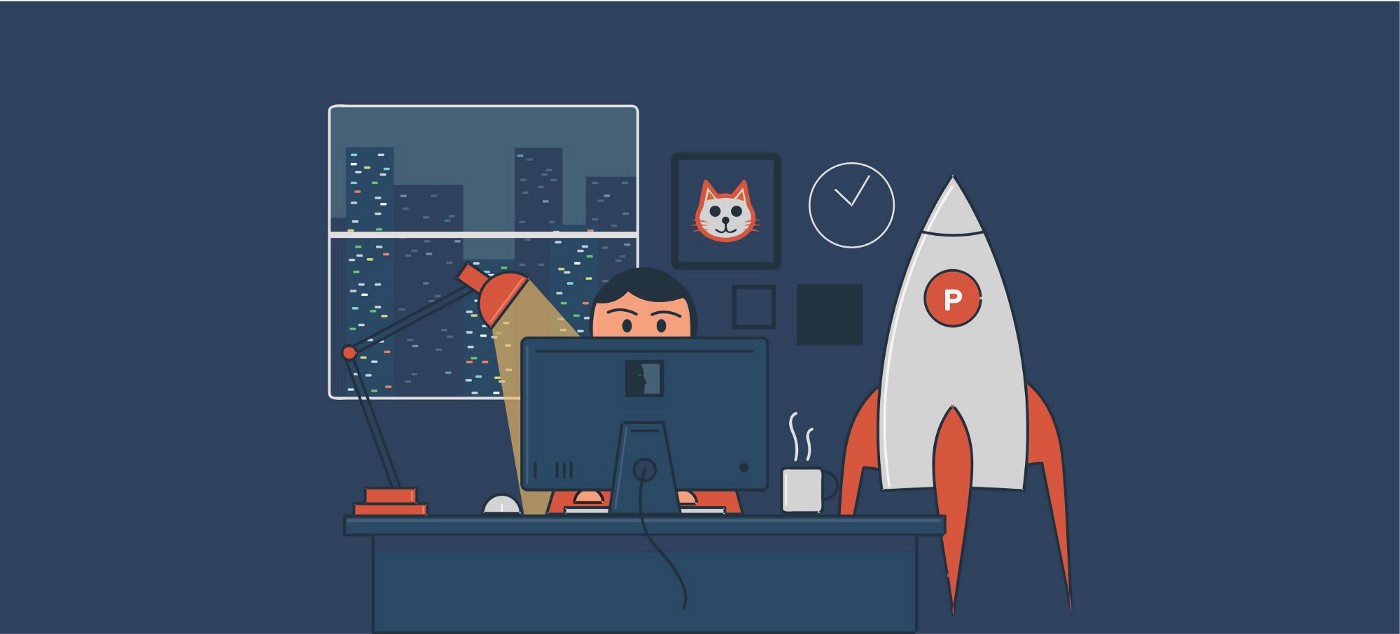 4. Launch a warm-up product
We launched OpenDeck as a "warming up" to OpenVC. We literally built and launched a small product to prepare the launch of a bigger product.

There are three main benefits to it: gaining the experience of a PH launch, collecting emails for the next launch, gaining followers on PH.

Definitely worth it if you can.
🥋 Pro tip: Use no-code builders like Airtable/Softr.io to quickly and easily build a warm-up product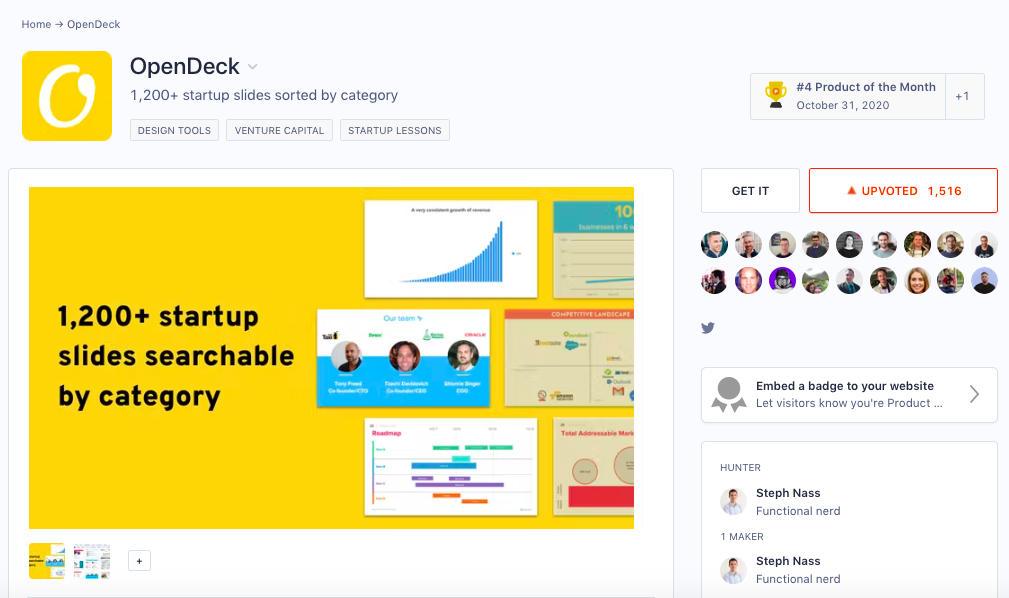 5. Use PH Ship to prepare your launch page in advance

PH Ship has a free version that lets you prepare your launch page.

Iterate on the product name, logo, and headline with your maker friends. Prepare the first comment, too!
🥋 Pro tip: The paid version of PH Ship ($79/mo) prevents other people from hunting you before you're ready.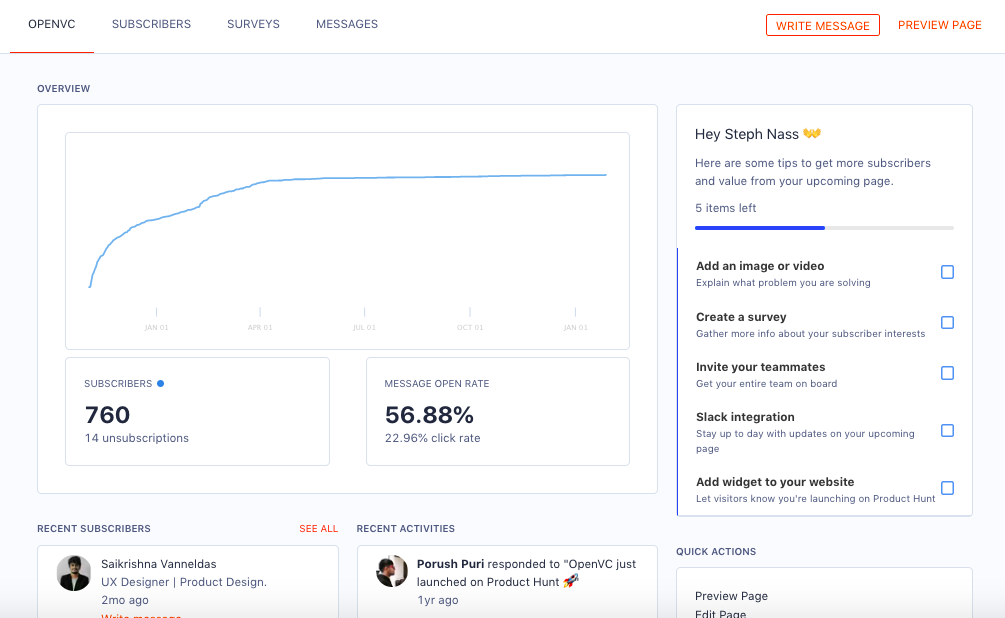 6. Don't hire a famous hunter - unless you want to
We launched OpenDeck ourselves with near 0 followers on PH. You can do it too.
However, a great hunter will help capture attention and advise you effectively on your launch.
🥋 Pro tip: You can reach out to the #1 Hunter ever Chris Messina here.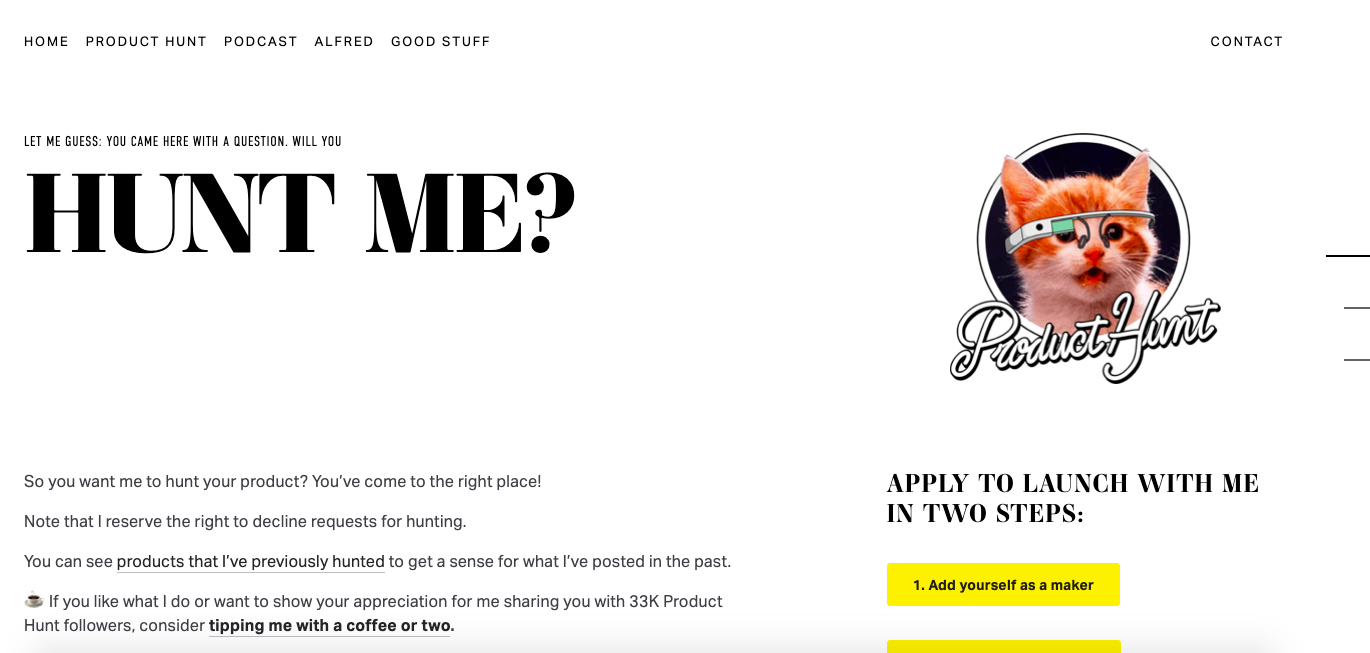 7. Pick the right day for your launch
The weekdays have much more traffic than the weekends. Consequently, there's much more competition on weekdays.

👉 Launch on Mo, Tu, We, Th, Fr to maximize exposure
👉 Launch on Sa, Su to have a shot at the top 5

🥋 Pro tip: If it's your 1st launch, just go for the weekend.
8. Anticipate logistics

If you have co-founders, stay together in the same place. You could rent out an Airbnb, meet the day before to plan out the final details, and chill.

Make sure that you block a whole 24 hours and commit to it - nothing else comes in the way. Eat and drink healthy to go the distance. The last 6 hours are the hardest.
Most importantly, make the experience pleasant and fun for all!
🥋 Pro tip: Get your significant other on board to 2x the fun!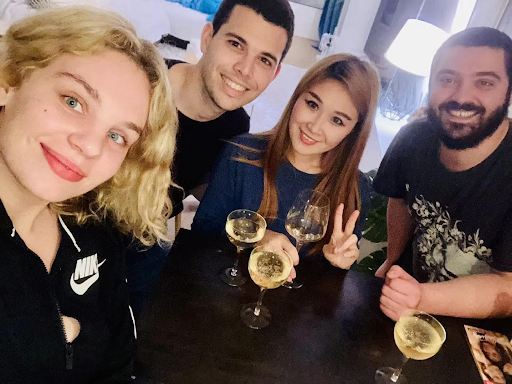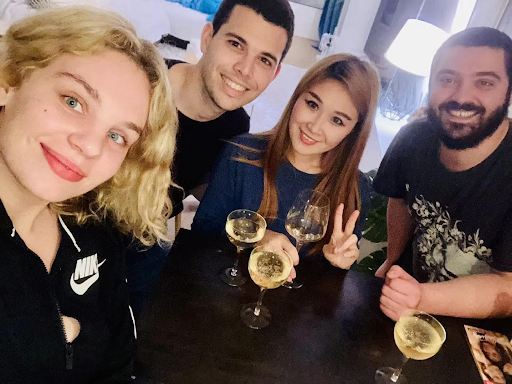 9. Get journalists & influencers on board - if you can...

We've been VERY active early on to try and get media and influencers to share about the OpenVC launch. It's been extremely difficult as you would expect when you have zero brand, zero product, and zero connections.

If you've never done PR before (it was our case), this post by @chrija is super helpful.
We eventually managed to get a couple of publications (massive kudos to Robin Wauters for his open-mindedness and enthusiasm!). This has proven helpful to capture attention and drive traffic to our website on the D-Day (especially when combined with the cross-launch hack, see below).
🥋 Pro tip: You may not get the paper published on the exact desired date. Journalists have their own schedule. At least, specify an "embargo date" so the paper is not released too early.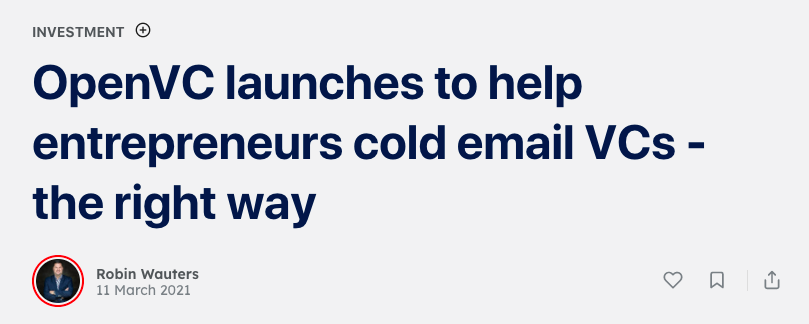 Launch your product and share it to the world
10. Share a direct link to your ProductHunt page
You may have heard that you should not share a direct link to your PH page. This is a myth. You can and should.

How do I know? Because PH themselves debunked it here.

11. Message your friends 1 to 1
The first thing you will do after launch is hit up all your friends who are likely to be on PH: makers, developers, investors, etc. Send them 1-1 messages, let them know about your launch, and ask for their support. This is time-consuming, true, but it's also where you will have the highest ROI.
Don't hesitate to follow up a few hours later if they haven't engaged with your launch!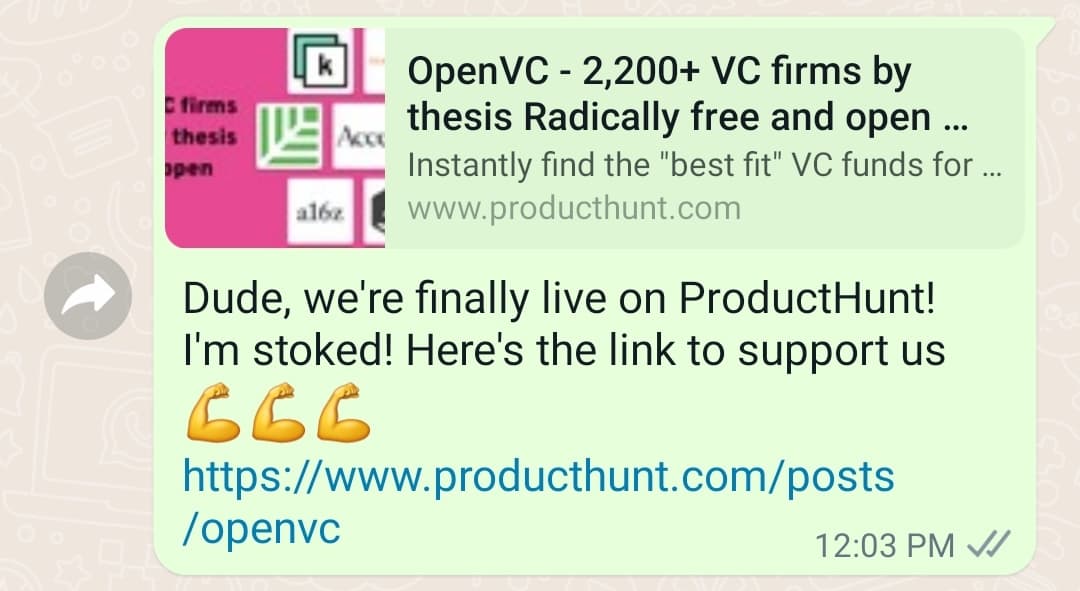 12. Activate your mailing list
If you have a pre-existing mailing list, that's great. Email your audience right at launch, and email them again halfway through the day.

🥋 Pro tip: You may have friends who have a newsletter with a relevant audience. Ask them nicely if they can share your launch with their audience on the D-Day!

13. Leverage a small number of high-quality online communities
You don't need to spam 100+ groups on a facebook to get upvotes. This may actually hurt you as ProductHunt is ruthless with cheaters.
Instead, find 2 to 5 communities that are (a) highly active, (b) highly relevant to your product, (c) highly tech-oriented with a bunch of existing ProductHunt users. Then, share about your PH launch. Don't tell people to upvote you - this is against the rule. Just share about your launch and if they are PH users, they know the drill. Trust the process :)
In the case of OpenVC, we shared on 1 Facebook group, 3 Slack groups, and 2 Telegram groups. The key here is that Lucas and I were heavily involved with all those groups for a long time.
🥋 Pro tip: Don't push people into creating an account on PH to upvote your product. ProductHunt WILL punish you if too many new accounts upvote your product.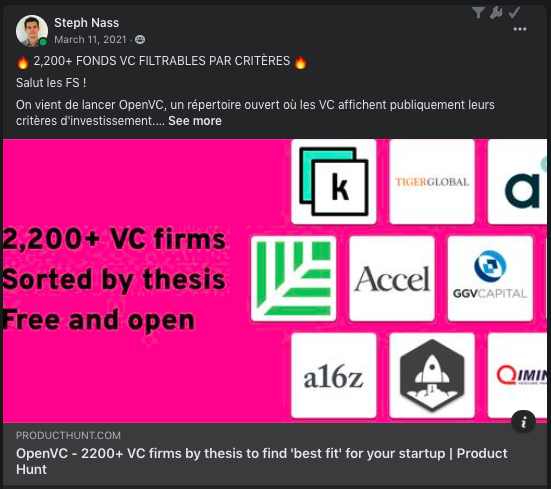 Run your ProductHunt launch like a pro
14. Launch at midnight PST and nail the first few hours
Don't miss the launch time!
If you're not in the Top 5 within the first 6 hours, you will never win. The reason is simple: the top 5 get more exposure on PH homepage. From there on, it's a self-fulfilling prophecy.
You have to nail those first few hours.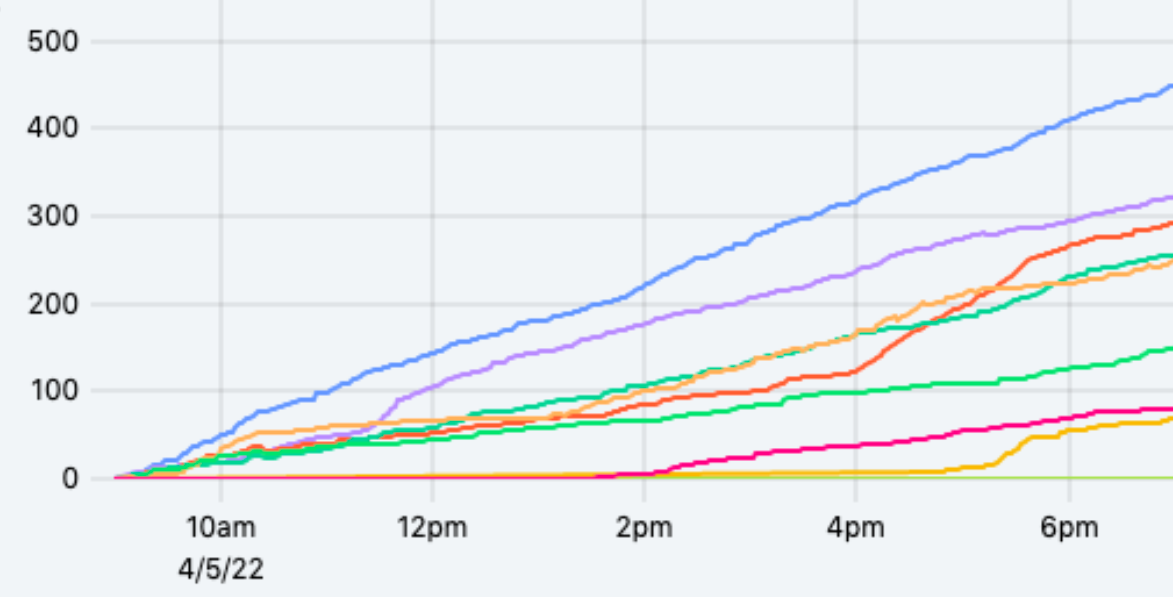 15. Track your progress in real-time
I love ProductWars. There are many PH trackers, but so far, this one is my fav. 😍

You can see our launch day on ProductWars here and the real-time archive below.
🥋 Pro tip: Display the real-time chart on your TV and feel like a trader.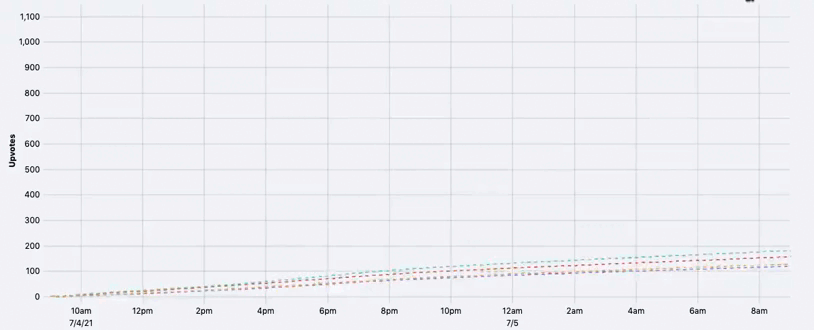 16. Take advantage of time zones

Make sure you hit your contacts and communities at the right time for them. Make sure you have touch points in every major time zone to keep the ball rolling.

If you're not in the US, don't forget that that the game really begins when Americans wake up. Don't lower your guard to early!
🥋 Pro-tip: 12pm GMT is usually a downtime everywhere, so use that 1-hour window to get some rest.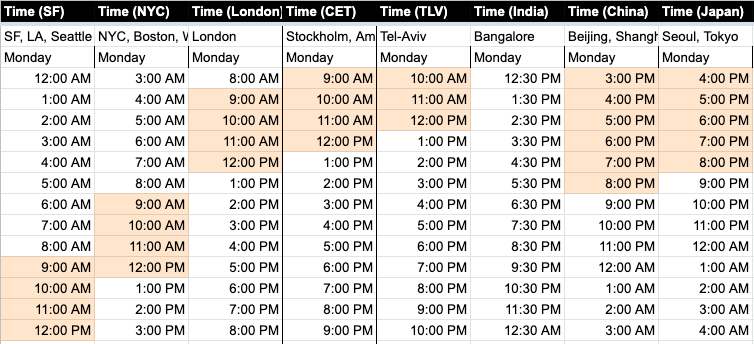 17. Split the workload

The most efficient organization we've found for us was:
1 "outbound" person who messages the contacts, emails your audience, posts in channels and groups.

1 "inbound" person who replies to emails, slacks, messages, PH comments, chatbox, etc.
This is nice because it allows everyone to focus on a repetitive set of tasks without disrupting their workflow too much.
🥋 Pro tip: Have a dedicated Slack channel or Google Doc for the launch where you will centralize the blurbs to be used when replying across channels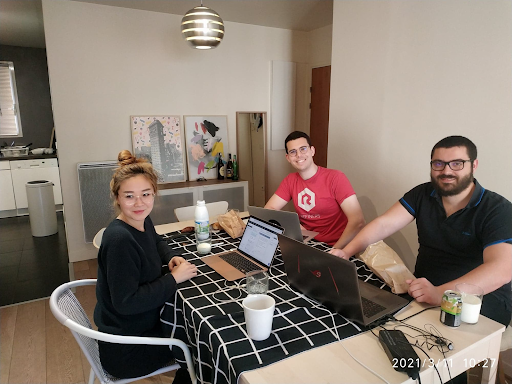 18. Rely on the ProductHunt staff

I've contacted them for many reasons: rescheduling a launch, deleting spammy comments, etc. They're proactive and punish people who try to game the system.

They are extremely responsive and helpful. Don't hesitate to reach out to them!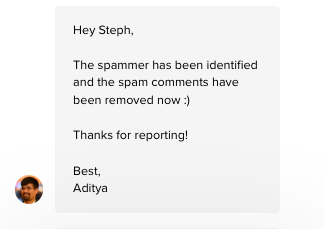 19. Don't cheat - or ProductHunt will punish you
When we launched OpenVC, we took a clear lead after ~6 hours. But in the second half of the day, something happened.

Two other players started growing super fast. It quickly became obvious that we had lost. We kept fighting regardless, but to be honest, this was very disheartening.
Then, one hour before the end, a miracle! ProductHunt had punished what they regarded as "cheating". I don't have the details, but you can clearly see it on the graph below.
Morale of the story: don't cheat. Also, don't give up.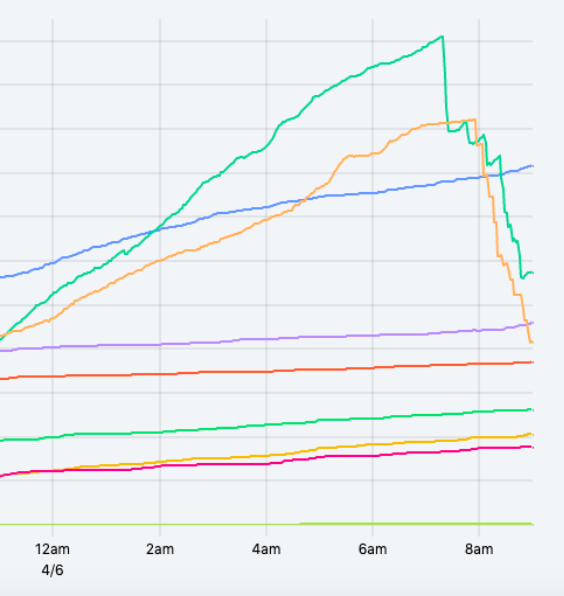 Use the "Cross-Launch" hack to 10x your reach
20. Launch on Reddit and HackerNews on the same day
Launch on the same day on Reddit and HackerNews. If you hit the front page, it's the jackpot!

However, Reddit and HN are unpredictable. Don't spend much time there, just post and answer comments if any.
🥋 Pro tip: Make sure your servers can handle a potential traffic surge!

21. Reroute traffic to ProductHunt with widgets

The Cross-Launch is a two-part hack.

Once you've launched on Reddit and HN, you need to redirect traffic from your website to your PH page for upvotes. The best way to do that is using on-site widgets.
You want to have at least an announcement bar at the top of your website that redirects direct traffic to your PH page.
This hack is so effective because Reddit and HN communities have large, active communities that are most likely ProductHunt members too.
🥋 Pro tip: I also use an automatic chatbox message on my website. A bit intrusive, but acceptable for 24 hours, and quite effective.
After the launch
22. Get some rest
If you've done things properly, you've been up for 24 hours.
Get a shower, go get some sleep, and have a solid meal to get back on your feet when you wake up.
23. Follow-up with all the inbound requests
During your launch, you may receive several requests. People will suggest new features, invite you to their podcast, apply for a job, suggest a partnerhsip, etc.
Make sure you follow up with each request. That's part of the ROI of the launch.
Pro tip: During the launch, share a spreadsheet with your cofounders and write down all inbound requests in there along with the associated channel (Slack, chatbox, Linkedin, etc.). That way, you can easily handle find them in a central place and handle them the next day.
23. Measure the results

For OpenVC, ProductHunt was good:

3,900 visitors on launch day, 2,900 the next day
200 VC firms signed up within 5 days of the launch

Valuable feedback that resulted in v1.1 soon after


What if my launch fails?
At the end of the day, ProductHunt is a channel. Just like Google SEO or Facebook Ads, you have to learn your way around it.
Your launch was not successful? Clubhouse's wasn't either. No big deal.
ProductHunt allows at most 1 launch every 6 months for the same product, provided there has been a significant change since the last launch.
You'll be fine. 🙂