Venture capital is in the business of disruption.
With every new age of innovation, the birth of new giants coincides with the death of old giants, so naturally, the job of an investor necessarily includes evaluating how new startups will compete with existing incumbents.
Here are a few tips on how to think about competition when looking at new opportunities.
Table of Contents
Refrain from asking "What's stopping (insert big tech name here) from doing this?"
This question is rarely valid. To explain why, let's look at buy-now-pay-later companies like Affirm or Klarna.
Imagine it's 2007 and you're sitting with Klarna management talking about participating in their Seed round. You might be tempted to ask, "What's stopping Amazon from doing this?" It sounds like a plausible concern. Buy-now-pay-later is a tool for consumer purchasing and in year 2007, Amazon was well on its way to becoming the center of consumer ecommerce.
So what did stop Amazon from "doing this"? While it's definitely not the only reason, it just so happens that this little business called Amazon Web Services got started the year before in 2006. In time, this new venture would eventually become Amazon's highest margin business, it would fundamentally alter the technological landscape of the 21st century, and the man who started it within Amazon would eventually become Amazon's CEO. Plus, given the way Klarna turned out, I would say that Amazon made the right choice.
The reason why (insert big tech name here) usually won't try and "do this" is the same reason why they became big tech companies in the first place: focus.
Amazon, Apple, Microsoft, and Google didn't become household names from chasing every market opportunity available. Their success came from laser focus on chasing the largest markets available. Using AWS as an example, the fact that Google and Microsoft launched their own cloud computing platforms in 2008 and 2010 respectively should be an indication that all three companies saw cloud computing as the next big market that they wanted to pursue.
Very rarely will you run into a startup that's in real danger of a big tech company coming out with a new, competitive product. The founder might pitch a large vision of eventually competing with them, but almost all of them are going to be starting with a small niche and building from there. In most cases, competing with Amazon or Google isn't something you need to worry about for at least 10 years.
If anything, you should be hoping and praying that Amazon or Google find this startup's market interesting enough because if they ever do become interested in the market, the most likely outcome is the acquisition of the startup.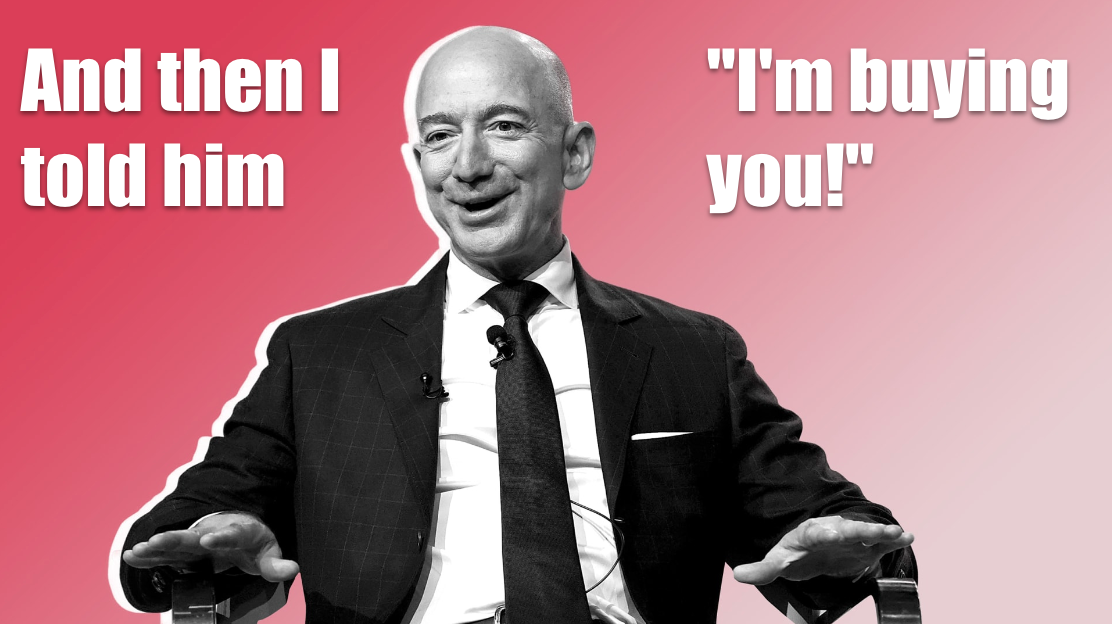 Look at the problem, not the product
Whenever you look at a new company, try to think about the problem they're solving, not necessarily the product they're building.
Taking a "jobs to be done" perspective on competition can help you understand whether real competitors actually exist. From what I've heard from founders, talking to investors that immediately write them off because they've heard of a similar product is one of the most frustrating things about fundraising.
Take Dropbox and Box for example. If you take a purely product-centric view of these companies, it would be difficult for you to understand why these two companies reached unicorn status in the same decade.
Not only do they have similar products, but their branding is almost indistinguishable!
But if you dig further, you'll quickly discover that Dropbox is a consumer-focused company while Box is an enterprise- or B2B-focused company, which has significant implications in terms of difference in sales cycle, margins, and product strategy.
These two companies built a similar product, but solved different problems for different audiences, which is why they were both able to be successful at the same time, even while Google had a similar product (Google Drive) out in the market.
Understand how a startup's game keeps score
If you regularly see startup pitch decks, you'll almost always see some variation of the graphic below.

The funny thing is that if you pulled up the pitch decks from Competitors 1 through 3, their list of features on the left column would be completely different from one another, each one depicting themselves as the winning product that has it all.
Unsurprisingly, not all of those features have equal value to all people. So first, you need to understand the customers they're targeting. A "financial management platform for SMB" can look very different depending on whether they sell to dentist offices or sandwich shops. This is worth dedicating significant time to in your second or third meeting with a founder.
Second, you need to understand what's most important to those customers. This is the purpose of customer reference calls. Your top priority in those precious minutes you have with target customers should be spent understanding how important various factors are when it comes to the buying decision. The more you can steer clear of company- or product-specific questions and focus on understanding the customer, the better.
But in the end...
There are a million different frameworks you can use to analyze a market's competition. At the end of the day, what determines a company's success isn't their ability to beat competitors, but rather it's a company's ability to win customers. This should be the focus of every design sprint and pitch meeting, and this is also why you hear VCs talk so much about product-market fit instead of product-competition kill.
As Jeff Bezos once said, "There are many ways to center a business. You can be competitor focused, you can be product focused, you can be technology focused, you can be business model focused, and there are more. But in my view, obsessive customer focus is by far the most protective of Day 1 vitality."
About the Author
Noble Hwang is an Associate at StartFast Ventures, an early-stage venture capital firm that invests in B2B SaaS companies located outside traditional venture hubs, where his role spans sourcing, due diligence, and portfolio support. Prior to StartFast, Noble was a Program Director with Ulrich Allen leading reform initiatives for the Royal Government of Bhutan.
Noble graduated from Brigham Young University with a BS in Strategic Management and is an incoming MBA candidate at the UC Berkeley Haas School of Business.
Noble can be reached at [email protected]