As you scroll through Instagram and Facebook today, you will probably be hit with many ads for various businesses. If I ask you how many of them do you remember, you might scramble for an answer. That's because there's just that many of them.
The digital ecosystem requires that your potential customers remember and are excited about who you are. And your business name is the first and most important fragment of that identity. So much so that platforms are entirely devoted today to help you find a business name.
However, as crucial as this process is, it doesn't need to be extremely complex. At Squadhelp, we have done this more than 35,000 times. And I can confidently tell you that there are 3 major steps to naming your startup:
Table of Contents
1. Understand your brand
A name is the most significant aspect of your brand. So, there's no way that you can circumvent understanding your brand while naming your business. Your venture is what you do. Your brand is how you want to be seen.
Let's take the example of Accenture. What do you envision as soon as you hear or see the name? To me, it sounds classy, modern, and high-end. This works extremely well for one of the world's leading consulting firms. Yet, you could not name a household tech product like the iPad or Alexa the same. The name would not be in sync with who they are or what they do.
Hence, the first step to naming your brand successfully is to have exemplary brand imagination. It is the most underrated tool for naming. Brand imagination is the ability to visualize your brand's personality.

What does the brand look and feel like? 
What are its values? 
What tone does it embody? 
What kind of emotion does it want to evoke in customers? 
When you have an understanding of these elements, you will be in a far better position to start a comprehensive business naming process.
Let me give you another fun example. SquattyPotty is a company whose mission is to "improve bathroom health around the world." What the company does is actually pretty scientific and medical. But they did not necessarily want to be seen as that, and their name is the biggest proof. Further, on their website when you see the use of colors and witty puns, you know that they want to come across as playful and interesting.
So, clearly knowing your brand in and out is important. How do you begin to do that? 
Start by thinking the following three things:
Who are you as a business?
Who are you to your customers?
Who are you, in comparison to your competition?
Let's say you want to start an online jewelry company.
So, you are a jewelry business. Who are you to your customers? Are you a jewelry business that is super exclusive and luxurious? Are you a humble-beginnings jewelry business? Are you a locally-sourced company? Are you a jewelry business for people with rare skin conditions? 
Lastly, where do you stand against your competition? Do you offer cheaper prices? Do you offer only a selective collection? Or is there anything unique about you that hasn't yet been done in the jewelry industry by anyone? 
Answering these types of questions will help you understand your identity and how others should perceive you.
Next, you need to think about your brand's tone in line with the above identity. Tone will define the character or attitude of your business. It should resonate with your audience while also appealing to your business goals.
I recommend choosing from these five broader tones: Modern, Emotionally Powerful, Pragmatic, Playful and Fun or Pre-eminent. A name like Louis Vuitton, for example, sounds opulent and pre-eminent and works amazingly with what they do and their demographic. On the other hand, a name like Slack is modern yet also playful.
This first step of naming your business will be the most time-consuming. However, once you answer who you are, how you want to be seen by customers, and how you compare with competitors, as well as sort and lock in your brand's tone, the next few steps will seem far easier.
2. Brainstorm name ideas
This is where it gets fun! Get together with your team (if you have one at this stage), grab a few markers and a whiteboard, and think freely. The brainstorming process is not an analytical one. You don't need to evaluate names at this point. You just need to turn your creative taps on and go with the flow.
Don't be afraid to write down bad names. In fact, I highly encourage you to write names that you feel iffy about. You never know what could come out of them. Here are some simple tools to add zing and efficiency to the namestorming process: 
Thesaurus
Visual names, perhaps involving a color
Industry slangs
Rhyming Words
You can also use some root words (basic words that can be attached to other words) to land a brandable business name. According to our research at Squadhelp, the top 5 words popular among our customers are gen, omni, case, spot, and door.
Further, it's great to include people from various ages into the brainstorm as they have different notions about innovative vs pre-eminent names.
In a survey that we conducted in 2021, we found out that younger age groups - 25-34 year olds - leaned towards innovative and modern brand names while 45-65 year olds were more likely to trust historied names. The 35-45 age group was in the middle. Hence, a mix of different ages allows you to weigh multiple perspectives.
Towards the end of the brainstorm, even if you end up with 200 odd names, that's great as we now work on condensing this list.
Shortlist your best names
Now, we match our brainstormed names to our value proposition and brand tone. A team working with you at this point should have access to a naming brief that highlights your final tone and who you are.
You can judge names for fit with brand personality, how it sounds and looks on different properties such as social media, on paper, how excited it gets you and your team and so on. Get feedback on most of the brainstormed names, analyze for how catchy or memorable a name is, and then plan to end this step with less than 10 shortlisted names.
For example, if you have decided that you want to be seen as a pragmatic brand, keep the emotionally powerful names to a minimum. But you can play around within a category. Even if you want a practical and solution-driven name, you can still experiment with alternate spellings (example, Lyft) or short and spunky (example, Zoom).
3. Validate the winning name
How we all wish that your top preference among shortlisted names is that smashing business name you've been looking for! But you must undergo a few key tests before you can celebrate. Validation is the process of checking whether your planned business name(s) is feasible: 
Audience feedback : This is a major step when validating your business name. You started off the process with wanting a name that inspires and stays with customers, especially if you plan to operate primarily online. So, your potential audience should like the name.

You can do this using feedback from friends or family members or even total strangers that you might meet at a cafe or bar. Don't hesitate and explain what you're doing. Ensure that you write down the audience's feedback or even run a poll on social media.

At this stage, it's important to detach from the brand names as the audience's pick may not necessarily be your top choice. You should also run a linguistics test to ensure the name doesn't have an alternate meaning in a different language and can be pronounced relatively easily by anyone.
Domain : A website is pretty much non-negotiable for any business. So, you need to check if your chosen domain name is available. In the perfect world, you would get access to nameofyourbusiness.com. However, this rarely happens. You might need to pay a hefty sum for it.

If you are unable to do so, you can try different spellings, removing the vowels, etc. You can also try it with a.co url or adding "the" or your name to the domain names. On the Squadhelp website, you can check out our list of readily available domain names as well.

Trademarks : You may not be a fan of this step but it can save you major trouble in the future. Most existing words carry some level of a trademark. You need to check if your business name passes the trademark test. As a first step, check out availability on the USPTO website (see below a search for the brand "Aviato". You can also use the help of a legal consultant at this stage. Skipping this check may lead to cease-and-desist letters in the future.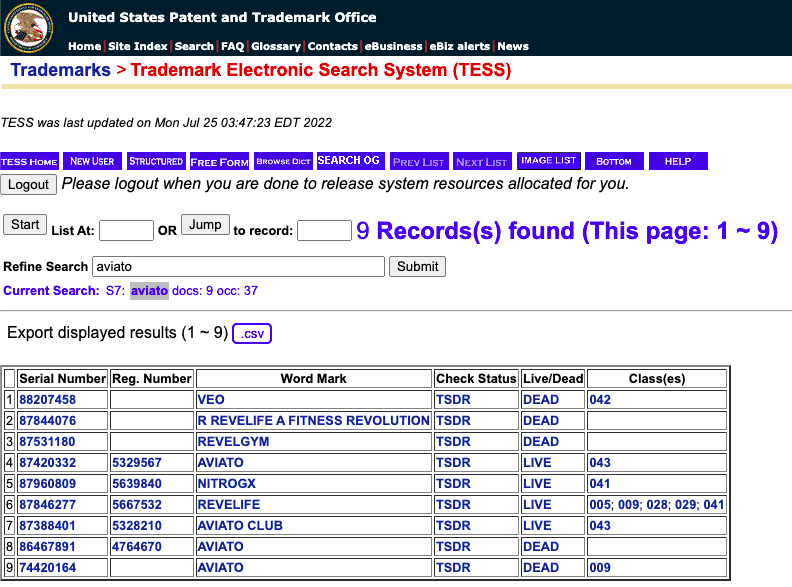 Conclusion
Brand names can be a gamechanger as names have the capacity to boost sales and impact your monetary success. An outstanding business name that is aligned well with a brand's identity and tone can create a buzz, and resultantly, attract customers. A great business model and product without the right name can fall flat on social media.
So, you should put in the effort and due diligence it takes to land the perfect name - know and deeply understand your brand's personality and desired perception, brainstorm good and bad business names, shortlist names after a careful analysis, and validate your top brand names for audience feedback, domains, and trademarks. With this straightforward but elaborate process, you can be assured to come up with a name that reveals who you are and catapults your brand towards success! 
About the author
Grant Polachek is the head of branding at Squadhelp.com, where he has completed more than 1,000 brand naming projects for everyone from early-stage startups to leading enterprises.