Welcome, founder!
In 5 minutes, you will know exactly how to use OpenVC to raise funds for your startup.
Table of Contents
What is OpenVC and is it right for me?
OpenVC allows tech founders to directly connect with investors.
On OpenVC, you will find 1,300+ verified investors - VCs, angels, accelerators - who opted in to be part of OpenVC and receive qualified deal flow.
Our service is completely free - no commission, no subscription. We monetize via premium features and advertising.
But it doesn't work for everyone.
OpenVC works better if you have positive signal such as:
If you just have an idea, OpenVC will not work great for you. Bootstrap some more, have a bit of team, product, traction, then come back to OpenVC when you're ready.
The only exception is exited founders: if you have previously built and sold a company, investors will be keen to connect with you, even at the idea stage.
How to sign up and get started
Go to openvc.app and click "Sign up", then "I'm a founder".
Fill in the first page with your personal information: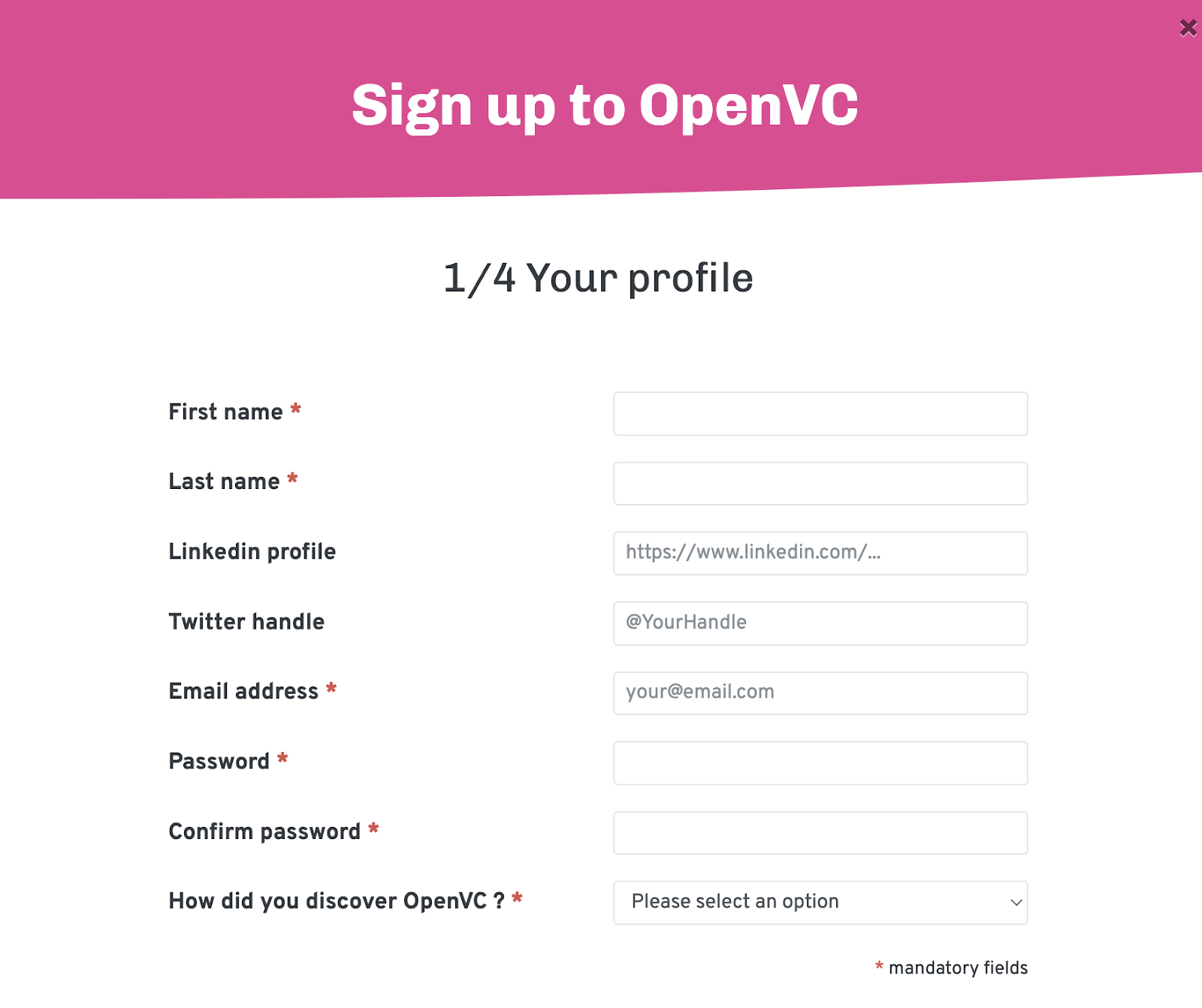 Then click "Next" and move on to your Company profile. Type in the name of your company and:
Once you sign up, you will receive a validation link to your email address. Click the link to activate your account and you're in! 
How to target investors on OpenVC
Targeting the right investors is key to raising funds successfully.
OpenVC helps you target the right investors by investment thesis: 
OpenVC also provides Power Search for Premium users. These filters help you be more productive in your fundraising efforts.

Once you run a search, results are ranked by match score. However, the matching score is not 100% reliable, so you should always read the Funding requirements before reaching out.
When investors receive too much deal flow in the past 7 days, the "Submit deck" is temporarily disabled and a warning message is displayed. Just try again in a few days.
How to email your first investor via OpenVC
Most investors on OpenVC accept cold emails. You can identify them with the logo below.
Before emailing investors, please read our guide on "How to write a top 1% email to VCs". The first impression matters a lot, so make sure to maximize your chances!
Once you click submit deck, you will go through a 3-step process.
Step 1: Confirm fit
Review the investment thesis and make sure that this investor is a good fit for you. If you email too many wrong investors, we will block your access to OpenVC.
Step 2: Pick the best recipient
Sometimes, a fund may have several contact points. Use this step to pick the best recipient for your deck.
Step 3: Craft a top 1% cold email 
Investors get spammed with low-quality deal flow all the time. At OpenVC, we insist that our users send top 1% cold emails. Lucky you, we help with that! 
Our emailing module guides you with examples and real-time insights on how to craft your cold email, including email subject, email body, and pitch deck.
See below examples for the email subject. Note that the subject is limited to 54 characters.
See below real-time insights for the email body, highlighted in pink. Note that the body is limited to 1,200 characters.
When it comes to pitch decks, you can either use the OpenVC built-in deck viewer, or any third-party deck viewer like DocSend or Dropbox.
The OpenVC deck viewer is free and natively integrates with the OpenVC investor list and CRM. it's usually the best option if you don't already use another solution.  
When you're good, click "Submit my deck" and voilà! 
Step 4: Wait for validation
After you sent your first email, WAIT.
OpenVC filters all deal flow that goes to investors. It usually takes 24 hours (except on weekends) and rarely up to 72 hours.
If your submission is rejected, no worries. You will be notified by email quickly. Then, try to fix your email and deck, and resubmit when you're ready.
If your submission is approved, you will be notified by email and the investor will receive your email as well. If the investor is interested, he will reply to you directly by email. OpenVC doesn't act as a middle man.
VERY IMPORTANT: Make sure to whitelist OpenVC with your email client! We will send you email notifications when investors reply to you. See here how to whitelist OpenVC.
Should I use the OpenVC deck viewer?
It's entirely up to you.
If you already have your deck hosted on another service like DocSend or Pitch.com, you can absolutely use it with OpenVC.
However, the OpenVC deck viewer is completely free and comes with several benefits:
We built our deck viewer to offer you an seamless and robust solution. If you're serious about raising via OpenVC, it's probably the right choice.
How to use the OpenVC CRM
The OpenVC CRM allows you to run your fundraising efficiently. It is completely free for all founders.
Everytime you email an investor via OpenVC, a new record is added to your CRM, so you don't need to create it manually. If you use the OpenVC deck viewer, the deck is also automatically linked to the record and all the metrics are automatically pulled into the CRM. That way, you have all the information in one place.
You can also use the OpenVC CRM to track your non-OpenVC conversations. Just click "Add manually" and enter the information.
How to follow up with investors on OpenVC
If you are using the OpenVC deck viewer, OpenVC will automatically follow up with each investor twice in the next two weeks. You have nothing to do.
You can see the follow-up progress directly in your OpenVC CRM:

For investors, it is typical to not reply if they are not interested. So if you don't receive an answer after two follow-ups, you can safely consider there's no opportunity here - and we will mark the Status as "Ignored" in the CRM.
If you are not using the OpenVC deck viewer, we cannot follow up automatically for you, since we don't know whether the investor has replied.
How to get more investor replies
Use the OpenVC deck viewer.
The OpenVC deck viewer includes two buttons that allows the investor to confirm his interest and book a call with you, or to decline the deal and provide feedback.
Investor feedback gets directly reported into your OpenVC CRM, so you get an overview of how you perform and why investors pass on the opportunity.
How to save your email template for future use
Once your first email has been approved, you will want to send more. But you don't want to type in the same message again and again. No worries, we got you covered.
Head to your profile picture (top right), then select "My startup", and the tab "Outreach". There, you can save and edit your scheduling link, your email subject, and your email body.
Keep in mind that customization is key! Even if you have an email template, you should customize it for every investor you reach you to if you want to get replies.
What do investors see when I email them via OpenVC?
When investors receive your email, this is what it looks like: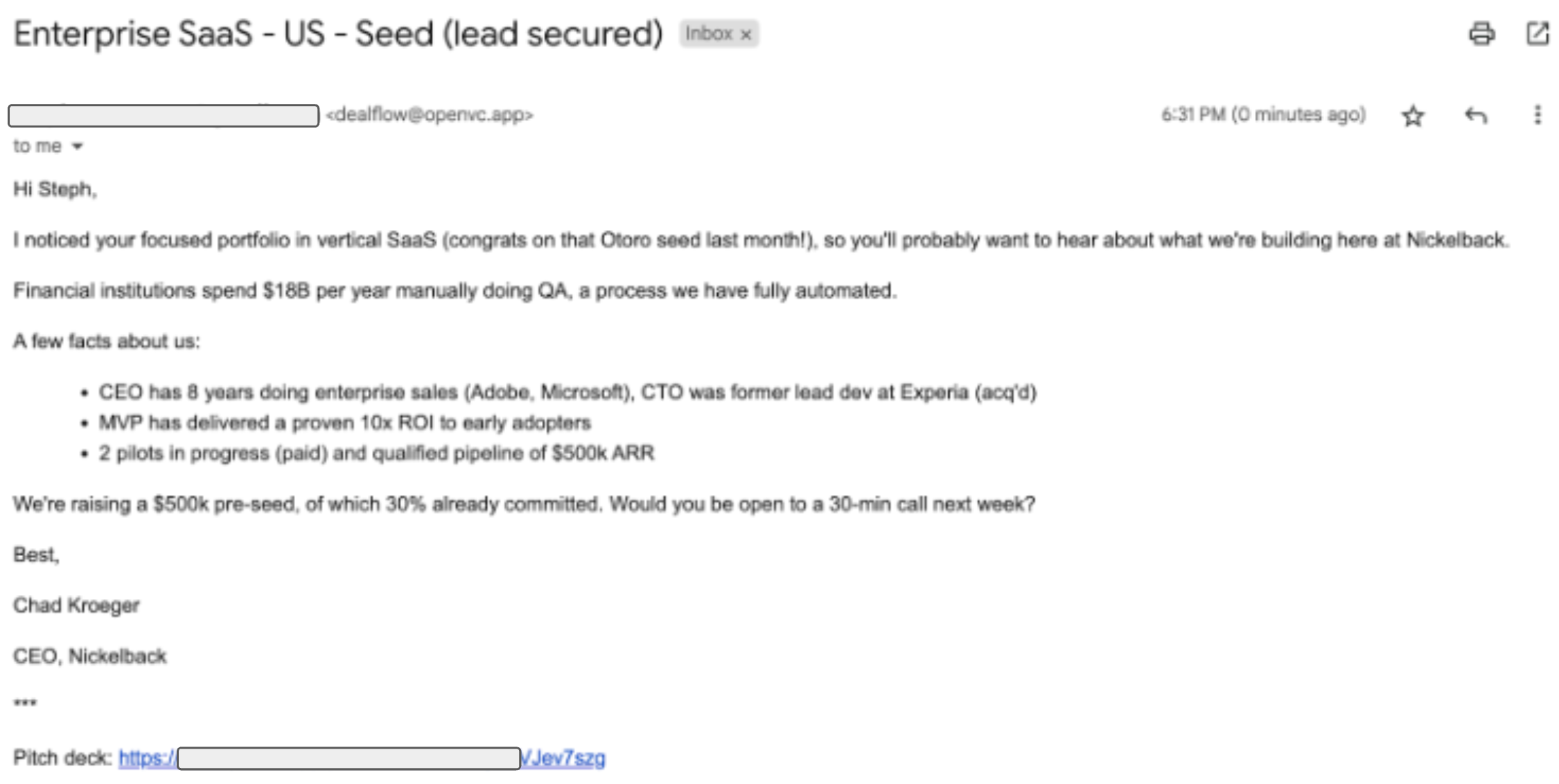 You will notice that your pitch deck is automatically inserted at the end of the email and acts as the call to action.
The email comes from our [email protected] email address, which most investors have whitelisted. When the investor clicks "Reply", it's your email address which is then used. OpenVC gets out of the conversation and you engage in a direct relationship with the investor.
What about investors who don't accept cold emails?
At OpenVC, we believe in letting people choose what works for them.
Some investors only accept intros. They are marked as "intro preferred". If you click their link, you will be directed to their Linkedin page and may try to find a mutual connection. It can be frustrating, but at least, you know that these investors exist and what the invest in.
Other investors accept deal flow via an online form, such as Typeform or Google Forms. Just click the "Submit deck" button and follow the instructions.
What is the OpenVC Premium Membership?
All the core features of OpenVC are open and free. You can absolutely raise funds via OpenVC and never pay us one dollar.
However, we've also built advanced features for users who want even more value from OpenVC! 
If you want superpowers to raise funds, consider getting a Premium membership: 
By getting a Premium membership, you're also supporting our little team at OpenVC to build and grow more!
The Membership only costs $149 for a whole year, and we frequently run discounts.
I have more questions about OpenVC
OpenVC is a young project and we need your feedback to improve! 
Please use the chatbox to share your thoughts, we try to reply within 24 hours.
Thank you for using OpenVC and best of luck with your fundraising!